Kenneth Zohore: Warnock hails Cardiff board over rejecting bids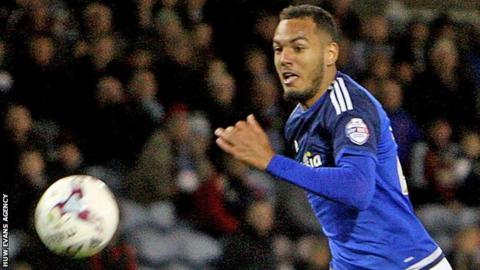 Manager Neil Warnock has praised the Cardiff City board for turning down bids for striker Kenneth Zohore.
The Bluebirds rejected an Everton bid for the Dane in August and there was also interest from Hull and Brighton.
"I would imagine the board of years ago would have probably snapped one or two offers up," said Warnock, the Championship manager for August.
"But these offers weren't right for us and where we're looking to be, Ken's a very important player for us."
Warnock added: "We were delighted when the window closed that Ken was still here.
"He needs another year to play under me as he gets stronger.
"I see a lot more maturity from him than when he was first in the team and whilst he might be disappointed that he hasn't scored goals in the last few games, his contribution has been super.
"It's good for us both really because we need Ken and I think Ken needs us for another season."
The 23-year-old Dane has also attracted interest from Hull and been linked with Brighton & Hove Albion.
'You'd always give Bryson eight of out 10'
The Bluebirds signed two players on transfer deadline day, bringing in Craig Bryson from Derby and Liam Feeney from Blackburn, both on loan
Warnock said: "Craig was the one I would have liked to have got permanently, but we had to take him on loan and now it's up to us and the player to show what he can do.
"I think Gary Rowett [Derby's manager] was a bit loathed to let him come here.
"He's one of those that doesn't catch the eye, but you'd always give him eight out of 10.
"Liam should have been with me a couple of years ago at Rotherham then here at Cardiff in the last [transfer] window.
"He needs me because he's not really been a regular at Blackburn and the way I see him playing I think he can do very well for me."
'An absolute nightmare for managers'
Warnock was concerned that both deals could collapse before the window shut as the club waited on completed paperwork, something which could be a thing of the past after Premier League clubs voted in favour of closing the window before the first game of the season from 2018.
The EFL will continue to discuss the possibility of doing the same in the Championship, something which Warnock welcomes.
He said: "It is an absolute nightmare for managers.
"Last year the hierarchy of the FA, or whoever decides, decided the deadline day was going to be on a night when we had a game.
"How absolutely useless was that? It just shows you how much thought people at the top level put into it.
"How can we do deals when we've got a game on? I was on the bench trying to do a deal.
"If they actually stop the window before the season starts then all managers are on a par."