Scotland manager vacancy: Stuart McCall favours Scot for role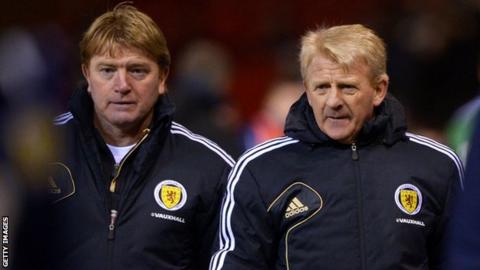 Stuart McCall believes there are strong Scottish candidates available for the Scotland job following the departure of Gordon Strachan.
The Bradford City boss, 53, singles out David Moyes and Paul Lambert as experienced managers who would "hopefully" be attracted to the job.
McCall previously worked alongside Strachan as Scotland failed to qualify for Euro 2016.
"I would like it to be a Scotsman," McCall told BBC Radio 5 Live.
"I think a couple of years ago when Gordon signed his contract, there wasn't that many alternatives out there.
"I think now if you look at, for example David Moyes and Paul Lambert, we've got two Scottish managers with experience who are out of the game at the minute and hopefully, maybe, would like the chance to take over the country.
"Now, Sam Allardyce is one that would be put in and you would have a think about it, but certainly I think it's someone who needs to know the British game, needs to know the players, needs to see them on a regular basis and then when they get in there, get the best out of the squad."
Having worked as an assistant coach with Scotland from 2013-16, McCall believes success on the international stage can sometimes go down to "a bit of luck".
"There's no doubt about it, the staff and the players were fully behind him," McCall said of Strachan.
"He's a real honest guy with great integrity, great knowledge and the players loved turning up every time a Scotland international came around.
"There has been a big turnaround in this season, or certainly in the last year, Scotland have gone unbeaten but yet again it's another campaign that really, for me, comes down to one poor performance or poor result - at home to Lithuania [drawing 1-1 in 2016].
"In the Euros we got knocked out by a poor performance in Georgia, and one poor performance at home to Lithuania, for me, scuppered his chances.
"Even in the last game there, the last two games, Scotland were probably without the most two influential players of recent games in Armstrong and Brown.
"You look at Wales, they were missing Bale, they managed to miss out. Sometimes it's such small margins, but you know getting the right manager in place who the players want to play for is obviously going to be huge."
And, with the post vacant again, former Scotland midfielder McCall insists he is happy in his current role.
"You never don't take a phone call that's for sure, but I'm at a club that means a lot to me and I'm really enjoying my work at Bradford and we've got a big task ahead of us this season but no I think there's far stronger candidates out there," he added.