Ebbsfleet's Yado Mambo: Number 18? Something's wrong here...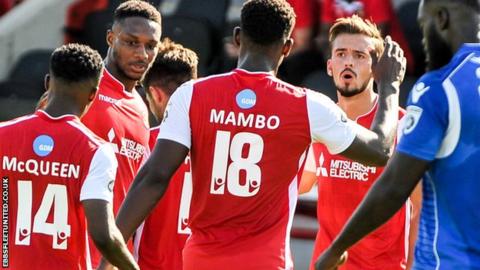 Since the introduction of names on the back of shirts, some players have been inseparable from the digits on their backs.
Cristiano Ronaldo wears 7. Lionel Messi 10.
Going further back in football history, Pele will always be linked with Brazil's 10 shirt and Netherlands legend Johan Cruyff was always number 14.
If you are a player called Mambo, and you know your pop music, surely there is only one possible number, 5.
But National League side Ebbsfleet United struck the wrong note this summer when they handed the centre-back the number 18 shirt.
And the oversight fell flat with sharp-eyed social media users during Saturday's 2-1 win over Leyton Orient, which was shown on TV.
This content will not work on your device, please check Javascript and cookies are enabled or update your browser
Let us take you back to 1999 and the release of 'Mambo No. 5' by German artist Lou Bega.
Mostly singing about the women in his life (Angela, Pamela, Sandra and Rita are name-checked among seven others), Bega's version of the song went to number one in the United Kingdom and a host of other countries around Europe.
So, it really has to be Yado Mambo, number 5.
"I told my gaffer [Daryl McMahon] the same thing, but I don't think he believed me until over this weekend, when it has just blown up all over social media," the 26-year-old told BBC Radio Kent.
"Maybe now he'll take it a bit more seriously and change the numbers next season."
Mambo had the number 15 when he started out at Charlton and missed out on 5 in two loan spells in the English Football League, wearing 30 for AFC Wimbledon and 23 for Shrewsbury Town.
"It was one of my favourite songs at that age," he said. "At school a lot of kids used to sing it to me."
And if Mambo wants to pull on number 5 next season at Stonebridge Road, he's going to have to use his powers of persuasion on Fleet captain Dave Winfield, currently the owner of the shirt.
"He is a big guy so we can see," Mambo added.
"I have heard of a campaign going round with people saying I should get the number 5 shirt. I can ask him at training and see what he says."
This content will not work on your device, please check Javascript and cookies are enabled or update your browser