Motherwell: League Cup win would be greatest achievement - Robinson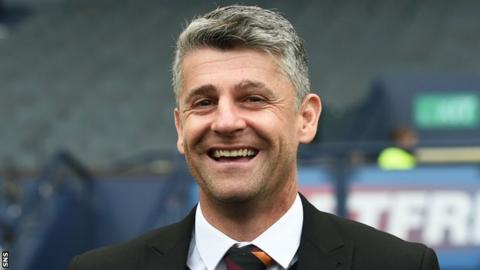 Stephen Robinson believes winning the League Cup final against Celtic would top Motherwell's greatest successes.
The meeting with Brendan Rodgers' side will be at Hampden Park on 26 November.
Asked if winning would be the club's biggest achievement, Robinson replied: "I would imagine so, considering where Celtic are at the minute and what Brendan's done with them.
"We genuinely believe that we can go and give Celtic a real game and cause them real problems."
Motherwell have won the League Cup once before, back in 1950, while their last major trophy was the 1991 Scottish Cup.
Celtic completed an unprecedented unbeaten clean sweep of silverware last season and have since stretched their domestic run without a loss to 63 games.
But Northern Irishman Robinson thinks his underdogs can replicate his country's tendency to defy the odds.
Robinson was part of Michael O'Neill's coaching staff when Northern Ireland reached the Euro 2016 quarter-finals, with O'Neill subsequently steering them to the World Cup play-offs.
"The camaraderie and team spirit is on a par with the Northern Ireland boys," Robinson, 42, said of Well.
"At international level, we've got a pool of 35-36 players to pick from, with only four or five of them playing in the Premier League - the rest of it is League One and the Scottish Premiership and what have you and some are not playing regular.
"So the achievement was massive - as big as Leicester winning the Premier League. People don't really see the strength of achievement."
'Somebody's got to beat them'
Motherwell, who sit fifth in the Premiership, visit Aberdeen on Saturday, with league leaders Celtic away to Ross County.
"We know what Celtic are, 60-odd games tells you they are very good." Robinson told BBC Scotland.
"But we are going to go and really try to make something different happen in this game and try to win and it won't be for the want of trying.
"I think there's weaknesses in every side. If you look at the best sides in the world, there's obviously weaknesses. There's an opportunity - somebody's got to beat them.
"There's strengths that we play to and and I'm hopeful our strengths, on the day, if we play to the best of our ability, we can cause them a lot of problems.
"Motherwell don't get to finals too often, so we intend to give it absolutely everything we've got.
"It is a really good one to look forward to. First and foremost, we've got Aberdeen."
Robinson, who came through the same Lisburn youth team that produced Keith Gillespie and David Healy, started his career with Tottenham Hotspur and played most of his club football with Bournemouth and Luton Town. The midfielder won seven Northern Ireland caps over a 10-year spell.
He first came to Motherwell as a coach in 2015 during Ian Baraclough's tenure as manager and is grateful both to him and Baraclough's replacement, Mark McGhee, who initially retained him and invited him back to the club earlier this year after Robinson left Oldham Athletic after a brief spell as manager.
'Punching against the odds'
When McGhee left Fir Park in February, Robinson took charge and is now signed up on a contract until 2020.
"The crowd have been great with me," Robinson said of the Motherwell fans. "I wouldn't imagine I was everyone's first choice. I wasn't overly known.
"A club like Motherwell is always punching against the odds, financially and crowds.
"What I got here was a little bit of time during the summer to sign the right players, play a certain style, players that fit into the way we wanted to play.
"You have to find a way to play that wins football matches and we've done that. We've put a lot of crosses in the box. We've scored every game bar one.
"I like to win football matches and I think the team probably reflects myself. They play with a passion and I like to think that's what we bring to the football club."