Hearts have siege mentality but need confidence - Levein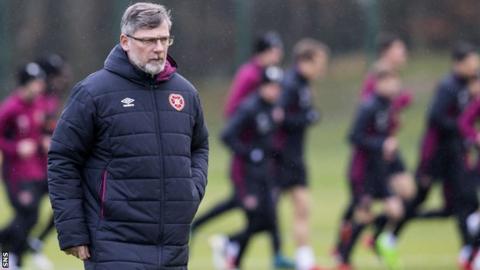 Hearts manager Craig Levein believes he has already installed a siege mentality within the dressing room but admits his players still lack confidence.
The club returned to Tynecastle two weeks ago having been forced to play early season home games at Murrayfield due to construction work.
However, their two recent home games have been draws and they host in-form Hamilton Academical on Saturday.
"I think we've got that," said Levein of the mentality he wants at the club.
"I'm quite happy with the attitude of the players and where they are at this moment in time.
"I think confidence is a bigger thing for me right now than actually the siege mentality. I think we just need a little bit of belief. That comes from winning matches.
"Once we start scoring we'll continue to score.
"Defensively, I think we've been excellent recently. As a team, we're restricting the opposition to very, very few opportunities to score goals.
"I think we're just a tiny little bit away from everything clicking into place.
"I'll caveat by saying we're still a little bit lacking in balance in the team."
Hamilton were criticised by Hibernian head coach Neil Lennon following last week's draw between the sides, with Lennon saying Hibs had been "kicked all over the park".
Accies are five games unbeaten, including two wins.
And Levein said: "They're a hard team to play against.
"They'll always work really, really hard. Hamilton have always been like that as long as I can remember.
"We know what to expect this week, for sure. It will be a physical contest. I just think they all are.
"We've got Motherwell coming up [on 9 December] and that's another one. I just think that's the nature of the game in Scotland."