Martin Olsson backs 'heated' dressing room words to lift Swansea City players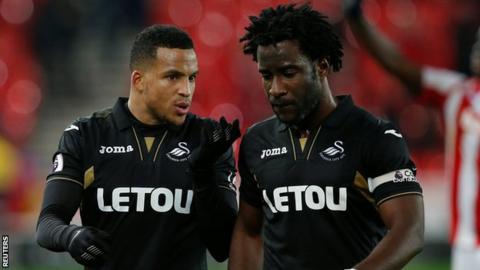 Defender Martin Olsson hopes a "heated" exchange in the Swansea City dressing room after their 2-1 loss at Stoke City will help turn their season around.
Despite Wilfried Bony giving them the lead after three minutes, Stoke hit back to send Swansea to the bottom of the Premier League table.
"Some frustration came out in the dressing room," admitted the Sweden international.
"It got a bit heated but it happens in a good way - it had to happen."
The win for the home side - who hit back through Xherdan Shaqiri and Mame Biram Diouf - was Stoke's first since 28 October.
The defeat against another struggling side could have major ramifications for Swansea at the end of the season and Paul Clement's side face another huge game next, at home to West Bromwich Albion on Saturday, 9 December.
The Baggies are just outside the relegation zone, four points above Swansea. A win for the Welsh side would put them in touching distance of escape, but a defeat would leave Swansea seven points adrift of safety.
"You don't worry about it but you get angry when you come in. Now it's time to get tough and if you need to 'dig' some players out then you need to... it's time for us to be men and go and fight on the pitch," Olsson said.
"But we're still behind each other, we've got to work hard... we need to wake up as a team.
"When we conceded the first goal most of the heads go down and we're not playing as aggressive - it cannot happen like that!
"We need to be stronger mentally, much stronger, because it's going to be a long season.
"We wanted to play more aggressive going forward, we did that in the first 20 minutes, but then it was down to the basics.
"The training is right... the manager told us what to do and we need to listen to him... [and stop making] simple, silly mistakes.
"It's frustrating to take and I don't want to keep saying it over and over again, but I just keep repeating it... the ways we're conceding goals it shouldn't happen that way."