Celtic: Callum McGregor says Anderlecht tie will show team's level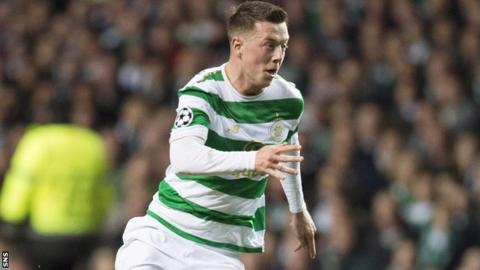 Celtic midfielder Callum McGregor says Tuesday's Champions League match with Anderlecht will indicate how strong they could be in the Europa League.
Celtic will drop into the competition if they avoid a three-goal defeat against the Belgians at Celtic Park.
McGregor said other group rivals, Paris St-Germain and Bayern Munich, operate at a "different level".
And he feels the Anderlecht tie will stand Celtic in good stead for the Europa League.
Celtic won 3-0 win in Belgium, giving them an advantage in the race to finish third as the Champions League group stage enters its final round of matches.
"Everyone looked at the two Anderlecht games as the ones that would decide if we have European football after Christmas, so we've put ourselves in a great position to do that and hopefully we can finish the job," McGregor said.
"We are getting better at this level - I know we've conceded a few goals but ultimately the performances have been better and more stable as well. Definitely we've progressed and tomorrow night will be the telling point if we can go and do it.
"They are at a good level and have been a good side in European football for a while, so that will give us a good indicator of where we are.
"For a Celtic team to win 3-0 away from home in Europe is a big ask, so it gives us great confidence. They've picked up since then and we know they're coming to try to get those three goals back."
Although Celtic have a three-goal advantage, since third place will be decided on the teams' head-to-head record, McGregor insists that the players will approach the game in a positive manner and not look to simply contain the Belgians.
"It's a single game and our mind-set is to win the game and play attacking football," McGregor said.
"We've prepared properly and we need to stamp our authority on the game, not just sit back and defend that three-goal lead.
"We have to play our own game, that's when we're at our best. It's important for us to take the game to them."