Chris McLaughlin's words of the weekend: Hearts' togetherness brings down Celtic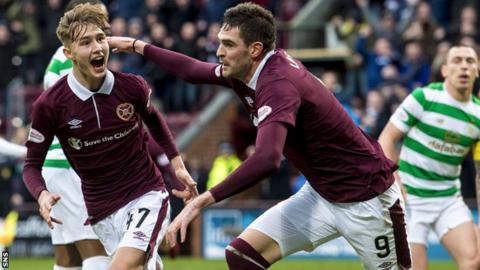 BBC Scotland's senior football reporter, Chris McLaughlin, analyses a talking point from the weekend's action, asking what's behind the words.
"The players gave themselves, each other and the supporters absolutely everything they had."
Manager Craig Levein after Hearts ended Celtic's 69-game unbeaten domestic run with a fine 4-0 win on Sunday.
It was coming. You could sense it.
Late controversial penalties, stoppage-time clearances off the line and, by their own sky-high standards, just an overall lack of consistency in performance. "The invincibles" were beginning to look like mortal men.
Being pitch-side for most of Celtic's recent matches, I could even sense that those who work for the club were beginning to see the magic run dry. It was being whispered for weeks: "Could today be the day?"
What nobody could possibly have imagined was the complete annihilation that would ultimately and spectacularly signal the end to the greatest unbeaten run in British football history. And that includes the man who masterminded it.
I certainly had no sense of it after reading out the team lines for BBC Radio Scotland's Sportsound and interviewing both managers ahead of the match. In all honesty, I wasn't alone in thinking Celtic would steamroller what looked like a makeshift, muddled-up Hearts starting XI.
Hearts manager Craig Levein told me he'd studied the way Anderlecht had pressed Celtic in their Champions League win a few weeks earlier. "All I can do is hope," he said with an honest grin that was clearly hiding nothing more than a familiar trepidation.
Celtic can cruelly punish teams and, in recent months, that's what managers have been mostly trying to avoid.
When the game started, though, there was immediately something different. The makeshift muddle suddenly looked like a cohesive unit with every piece knowing exactly the job at hand and the importance of achieving it.
The Anderlecht high press was there and the mighty Celtic didn't like it one bit. Don Cowie and Kyle Lafferty cut off the angles usually open to Celtic goalkeeper Craig Gordon when playing out from the back, and the mistakes they fished for were plentiful.
The men in maroon fought for everything, chased down loose balls and broke not only Celtic's rhythm but their fighting spirit. It was incredible to watch.
The visitors looked like a collection of players stumbling desperately towards a much-needed winter break. It's difficult to criticise a group of sportsmen who have been at the top of their game for so long, smashing record after record along the way and doing it in some style, but in the capital, they were all over the place.
A 16-year-old boy, Harry Cochrane, gave the Scotland captain, Scott Brown, the run around and Lafferty mercilessly bullied for the entire afternoon two central defenders worth millions of pounds. The champions will bounce back, but this was a day for Hearts and their manager.
The eyebrows that were raised when Levein stepped back into the dugout from his director of football role have come down and back up, but this time for very different reasons. Every manager in Scotland wanted to be the man to claim the invincible scalp and, in doing just that, Levein has silenced his critics.
His tactics were perfect. His players fought for him, but - more importantly - each other.
A group of men lost under former manager Ian Cathro have found something and someone to believe in once more. Recent results say it all.
The old head that has led his men to three straight home wins looks like he's back where he belongs. Just as seeing Levein work behind the scenes always seemed odd, Levein prowling the touchline just seems right. Now he himself finally seems convinced.
Hearts' strength in recent on and off-field issues has come through admirable and, for some other clubs, enviable unity. The fans refused to let the club sink when it looked doomed and that bond is now woven into the very fabric of everything Hearts.
It's the bond the manager referred to between players and supporters. The bond he hopes can get the club back challenging for honours and, for now, the bond that has afforded them all the chance to celebrate one of the biggest results in their history.
The day arrived and it belonged to Hearts.