Martin Cassidy: Jersey manager criticises attitude of island's players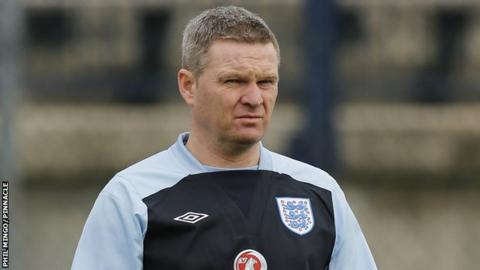 Boss Martin Cassidy criticised the attitude of Jersey's players after their FA Inter-League Cup defeat.
The Jersey Football Combination side lost 3-1 at home to the Kent County League at Springfield.
Adam Trotter gave Jersey a 36th-minute lead, but Kent levelled a minute later and went ahead after 41 minutes, before a third 10 minutes from full-time.
"The players need to look at their commitment towards playing for Jersey," Cassidy told BBC Radio Jersey.
"The unfortunate thing is I can't go out next week and fix it.
"That's our game programme finished now until probably February when the JFA team start to look at friendlies in the build up to the Muratti."
'It's a mentality thing'
Cassidy was particularly disappointed with the way his team conceded a goal so soon after going ahead.
He added: "We don't seem to have the mentality to react after going behind.
"I don't know if that's a thing through club football, where certain players are not used to being behind and they don't know how to react.
"I might need to stop kidding myself maybe and have a really strong look at how senior football is.
"If that's the type of games that we're playing in and we can't win them, then we've got a bit of a challenge ahead of us.
"That tournament was there for us to have a really good run, I thought we could have gone a long way in it.
"When I watch some club games, especially when I watch St Paul's, the level of passing and moving, and the clinical finishing in the last third, is breathtaking at times, but it doesn't transfer into the Jersey team for some reason.
"If you look at the last five years, Jersey at a home Island Games couldn't get out of the group stages with a great squad of individual players and in Gotland they couldn't get out of the group stages with a good squad.
"There's not a great deal of players to change, so you've got to work with what you've got, but I definitely feel that it's a mentality thing."