Celtic: Scott Brown adamant players will 'bounce back' after record run ends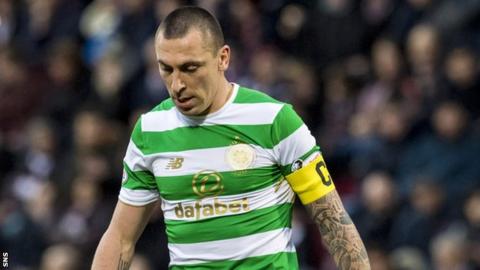 Captain Scott Brown says the Celtic players will not suffer a negative reaction to their 69-game unbeaten run coming to an end.
Hearts won 4-0 at Tynecastle to inflict the first domestic defeat of Brendan Rodgers' time in charge.
Brown admits the team has been affected by their British record run being halted, but says they will recover.
"Confidence is a little bit dented with the way we performed, but we'll bounce back," Brown, 32, said.
"We've got a big enough squad, we can deal with this. We'll be looking to kick on. The lucky thing about football is that we now have another game coming along to bounce back at Celtic Park."
Celtic host bottom side Partick Thistle on Wednesday evening, and a win would move the champions five points clear of Aberdeen at the top.
Rodgers' side have scored fewer goals and won fewer points than at the same stage in Ronny Deila's final season in charge, but Brown says the unbeaten run never felt like a burden.
"We're disappointed with [the Tynecastle] performance, but it's been a fantastic 69 games beforehand," Brown said.
"We had nine, 10 games last December and came through that - we went December unbeaten, that was Champions League games as well. It's not about fatigue, it was just about one game that was slightly disappointing.
"It's one of the proudest achievements of my career. It's an honour to be captain of this club and to go 69 unbeaten is exceptional. It will go down in history, but history is meant to be rewritten."
Brown also said it was a positive for Scottish football that Hearts started with teenager Harry Cochrane in midfield, while another 16-year-old in Anthony McDonald was a second-half substitute.
"It's fantastic for Scotland as well, young kids getting a chance," Brown added.
"They did really well, they were composed on the ball and they were in a few good challenges as well. It's great to see Scottish kids coming through."