Wigan Athletic: League One leaders would find it 'difficult' in Championship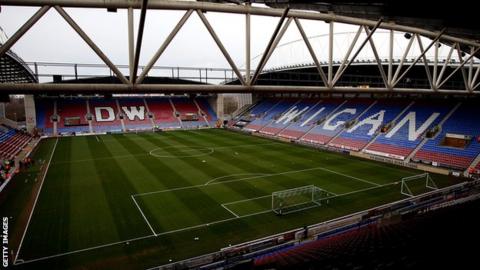 League One leaders Wigan Athletic would find it "extremely difficult" to be competitive in the Championship without "significant owner investment", says chief executive Jonathan Jackson.
The Latics made a profit of £4.3m in the year ending 31 May 2017 as the club's turnover rose to £25m.
They also received £17.7m as a final parachute payment after relegation from the Premier League in 2013.
In addition, Wigan sold winger Yanic Wildschut to Norwich in January and played a lucrative FA Cup fourth-round tie at Manchester United.
Jackson said: "Many Championship clubs sustained huge financial losses in their pursuit of promotion to the Premier League. It is an extremely difficult environment to achieve success without significant owner investment.
"The continued financial support of the Whelan family has helped the club to compete at the top levels for many years."
The 2013 FA Cup winners, who are two points clear at the top of the table after being relegated from the Championship last season for the second time in three years, say they are carrying out "a full review of player and other operating costs".
Analysis
The financial results lay bare Wigan's reliance on Dave Whelan and underline why the club have been working hard to bring in new owners.
Stripping out parachute payments, player sales and lucrative FA Cup ties, Wigan's annual turnover hovers around £7million.
To put that into context, in 2015-16 Brentford and Preston were the Championship clubs with the lowest turnover, at £10.6m. Half of the 24 clubs generated in excess of £20million.
After nearly 23 years at the helm, 81-year-old Whelan is seeking to limit his financial involvement and not dig even further into his fortune just to give the club he turned into a Premier League team for what now seems like an incredible eight successive seasons, a chance of treading water in the Championship.
Talks are at an advanced stage with one potential buyer but it could be the end of January before Wigan get Football League approval for the deal to go through.
That means any improvements to Paul Cook's squad this month will either have to come out of working capital or player sales. Former Manchester United man Nick Powell is the most likely to generate substantial funds, although Cook would be loathe to lose a player who has contributed 10 goals already to the Latics' promotion quest.