Scott Hogan: Aston Villa's goal-starved striker keen to turn it round after 'long old 12 months'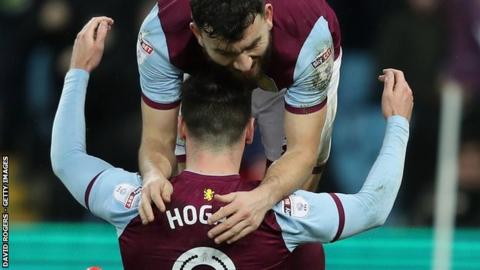 Aston Villa striker Scott Hogan is hoping that his old goal touch has finally returned after a frustrating first year in the West Midlands.
Hogan's opener to trigger Monday's astonishing 5-0 home win over high-riding Bristol City was his first in the Championship this season - and only his fifth in 35 appearances overall.
But that gives him an extra incentive to keep justifying his £12m price tag.
"I'm confident fans will see what they spent the money on," he told BBC WM.
"I've come here to score goals and I haven't. It beat me up that I couldn't score. There's reasons for that. I've come from a certain place in a certain way to a bigger place with a different way. But I'm still confident I'm the best striker at the club.
"Just like Jonathan Kodjia or Keinan Davis would be too. Or Conor Hourihane would want to be the best midfielder. You've got to be that way.
"I've not been happy with the fact that I haven't scored. It's been a long old 12 months. But that's gone now. Hopefully I can just go on from here."
Villa boss Steve Bruce added: "For the likes of Scott Hogan and Tommy Elphick, it's all about getting that little bit of confidence back.
"They look really good footballers again. We've got a few people it hasn't gone so well for. Scott Hogan is one. But fair play to him. He's stuck at it and he's got a goal that will hopefully get him off and running."
Hogan's 40 league goals
Rochdale (2013-14): 17 goals in 29 (4) games
Brentford (2016-17): 21 goals in 27 (6) games
Villa (2017-18): 2 goals in 16 (16) games
Hogan has battled back before
Hogan has come back from bad times before, missing 18 months with two cruciate ligament injuries - the first of which he suffered just 16 minutes into his league debut for Brentford following his £750,000 move from previous club Rochdale.
When he did finally get fit, the Salford-born striker then proved even more prolific than he had been at Rochdale - and at non-league Halifax and Hyde before that.
He scored seven goals in his final four games of the 2015-16 season, before another 14 over the first half of last season caught Bruce's eye and earned his big money January deadline-day move to Villa.
But an ankle injury in only his fourth Villa appearance kept him out for a month - and he spent another month sidelined in the autumn when he had to undergo emergency stomach surgery on Republic of Ireland international duty.
"I've had a bit of bad luck," he said. "Maybe we're now due some good luck.
"I'm not the only one who it's not gone to plan for. It's not just me. But you just have to keep your head down and keep working through and, like we showed against Bristol City, you get the rewards.
"For me, the big thing is just about being in a winning team. If I didn't score but we were winning every game that would still be brilliant. Any goals would be an added bonus."