Ben Davies: Wales players want Osian Roberts to stay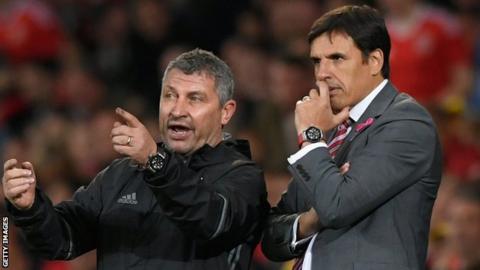 Wales defender Ben Davies says the players want Chris Coleman's assistant, Osian Roberts, to remain in the international set-up.
Roberts has expressed an interest in succeeding Chris Coleman, but former Manchester United icon Ryan Giggs is thought to be the frontrunner.
"Osian has been great for us and if he stays we will be delighted," Davies told BBC Sport Wales.
"He's a good coach, but as players it is out of our hands."
Speaking after his club side Tottenham's 2-0 Premier League victory at Swansea City, Davies said the players have no inside knowledge of who will be their next international manager.
"For us as a team we are waiting as much as anyone else at the moment, we have no say, or no idea really who is going to come in and I'm sure you boys [journalists] will know before we do who is getting the job," he said.
"I think he [Ryan Giggs] has a good opportunity and whoever we get in, we will always work as a hard as we did anyway, as a squad. Whoever comes in, it won't make a difference."
Fears for Swansea
Davies, himself a former Swansea defender, believes his ex-side do have the quality to win their battle for Premier League survival, but admits he sensed a fragile confidence among Carlos Carvalhal's men.
"I thought it was nice to see they had a go at us. In the first 20 minutes we had a lot of time on the ball and in the end we got a bit sloppy and could have killed the game off if we'd been a bit sharper early doors," he said.
"But when they came back at us, if we didn't score the second we would probably have been hanging on in those last few minutes, they had a good period but didn't really take advantage.
"They've got good players here and some players who can show a bit of quality to get them out of it, but at the end of the day if the confidence is not there, it is difficult."