Shaun Derry: Cambridge United boss 'delighted' with Christmas results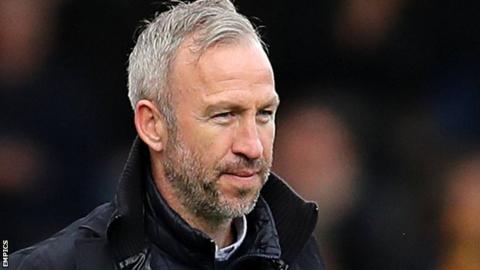 Head coach Shaun Derry says he is "delighted" with Cambridge United's results over Christmas, during a "testing time" at the League Two club.
Before the festive period U's director Graham Daniels would only guarantee Derry's future until the new year.
But after eight points from four games Daniels has told fans he will stay in charge for the foreseeable future.
"The lads have given everything over the course of the last four games - they've been excellent," Derry said.
He told BBC Radio Cambridgeshire: "I'm delighted with the points per game ratio over this Christmas period. To get eight points over some tough games, especially with everything else that's gone off as well - it's been a testing time.
"I'm absolutely shattered, of course I am. Now there's a little bit of downtime we can have up until the Mansfield game and this is where me and all the coaching staff can have our little quiet time, and I think it's needed."
Former Cambridge player Daniels said he would lead a review into the football side of the club this month, and in correspondence with supporters said: "At the board meeting yesterday we all agreed that stability is just as important as we enter the second half of the season.
"So what does that mean for the immediate future? First and foremost it means we go forward into 2018 with Shaun as our head coach."
Meanwhile, the U's have signed Norwich midfielder Adam Phillips on loan for the rest of the season.
The 19-year-old joined the Canaries on a two-year deal in July after being released by Liverpool, and is yet to make his senior debut.