Lewis Morgan could play for Celtic now, says St Mirren's Jamie Langfield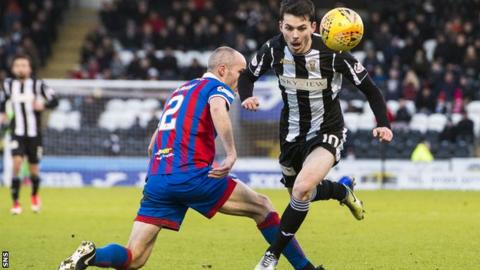 Lewis Morgan would have broken straight into the Celtic first team if the new signing had not be loaned back to St Mirren, says one of his coaches.
The 21-year-old winger has joined the Scottish champions in a £300,000 deal.
"I think he would get into the Celtic team at present," said St Mirren goalkeeping coach Jamie Langfield.
"I know the Championship is different, but I believe, with the way he is playing at this moment in time, he could play in the Celtic team."
Langfield acknowledges that, to do so, Morgan would have to be chosen ahead of Scotland international James Forrest, Republic of Ireland's Jonny Hayes, or former Swansea City, Manchester City and Aston Villa winger Scott Sinclair.
Morgan, rejected by Rangers as a youth, said he believes he can prove himself good enough for Brendan Rodgers' first team once his loan to the Championship leaders ends in the summer.
"It is not arrogance from Lewis - he's not that type of lad - but he's got this enormous self-belief," Langfield told BBC Scotland.
"And right now he's playing with a swagger, a confidence and I would take him right now against any full-back in Scotland."
Langfield says it is "brilliant" for St Mirren that an agreement was reached with Celtic for Morgan, who has spent five years with the Buddies, to remain with the Paisley side until the end of the season.
"He's a special talent," Langfield added. "He's got the natural talent, but he also has a work ethic that's second to none.
"He's got absolutely everything. He can go left, he can go right.
"You still don't know if he's left or right footed, which is a nightmare for full-backs. It's a nightmare for goalkeepers as well."
Langfield, who moved to St Mirren from Aberdeen in 2015, has witnessed Morgan's progression at close quarters.
"When I first came to St Mirren he was a young skinny lad," he recalled. "He got injured and decided to bulk himself up because he knew he had to.
"He went the complete opposite way and he got too big. I remember his first game back against Alloa, he was blowing a little bit and he knew he had to tone it down because he had lost his pace a bit.
"He had done it all off his own back because at that time we didn't have any sports scientists.
"But he knew himself where he wanted to go and I think that was down to the belief David Longwell, who is no longer at the club, gave him when he was academy manager and brought Lewis in.
"He told Lewis to constantly work and that's what the boy does."
"He's such a humble young man as well. He is an absolute revelation and one of the nicest young men I've ever met in the game. He deserves every bit of success he gets."