Gary Owers: Torquay United boss 'working tirelessly' to improve struggling Gulls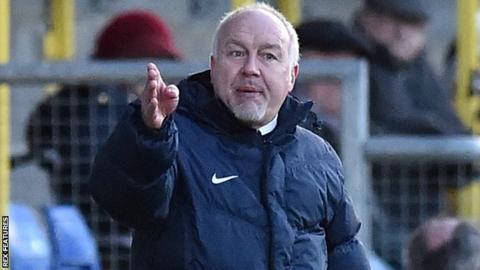 Torquay United manager Gary Owers says he is "working tirelessly" to try and improve his struggling side.
The Gulls remain bottom of the National League after a 4-0 loss at Wrexham - their seventh game with out a win.
In that time they have conceded 15 goals and scored just two.
"I've spent three days locked in an office making hundreds and hundreds of phone calls, I've reached agreements with players and then deals have broken down because of agents," said Owers.
"I've reached agreements with clubs and then agreements have broken down because of players, so there's all sorts going on."
He told BBC Radio Devon after the defeat by Wrexham: "I have to find a team very, very quickly that's competitive, and to be quite frank, shows a lot more desire than what we've shown today.
"Everybody is working tirelessly, we're not just standing back watching it all unfold between our eyes."
Since taking over in mid-September after Kevin Nicholson was sacked with the team having taken one point from Torquay's first four games, Owers has led the Gulls to just four wins in 20 games in all competitions.
"The major part of rebuilding any squad is done in the summer, so I didn't do that," added the Torquay boss.
"I came in because the team hadn't won in 13 games, we got them going a little bit, added a few that have left, and now it's my job to see what I can do in the coming weeks."