Valeri Belokon: Former Blackpool director working with EFL to overturn disqualification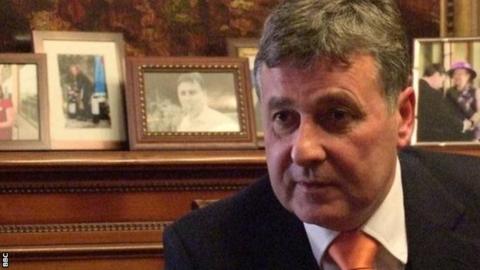 Ex-Blackpool director Valeri Belokon says he is working with the English Football League to reverse the decision to disqualify him because it ignores "basic principles of natural justice".
Belokon was given a 20-year jail term in Kyrgyzstan for "money laundering, tax evasion and dishonesty" last May.
He subsequently failed the Owners' and Directors' Test in September 2017.
The Latvian, 58, said he had "the club's best interests at heart" and was a "good football citizen".
In a statement, he added: "I certainly understand the need for the EFL to have a fit-and-proper-person test. That said, the regulations cannot always deal adequately with every scenario in life. I believe that this has happened in my case.
"The decision of the Kyrgyz Court verdict, upon which the EFL's decision was based, ignored the most basic principles of natural justice. I accept that the EFL did not have an option but to apply its rules in the way that it did at first instance."
Last week, lawyers acting for Belokon, who bought a 20% stake in Blackpool in 2006, sent bailiffs to retrieve assets from the League One club's owners, the Oyston family.
The Oystons were ordered to buy out Belokon's company, VB Football Assets, following a trial in November 2017.
As of 5 March, they still had to pay at least £20m of the £31m owed to Belokon, but a deadline to pay a £10m instalment was missed in February.
'A useful and productive exercise'
Belokon said he had been "overwhelmed by the show of support" from the Blackpool fans during his time at the club.
"I believe I have shown that I truly have the best interests of Blackpool Football Club at my heart and that I wish it to prosper," he added.
"I believe that there are obvious and compelling reasons why I should be considered to be fit and proper under the EFL Rules.
"I am in the process of working with the EFL to provide them with the necessary information and to investigate together a potential solution. I am hopeful that in due course we will do so. At that stage, I will be able to consider my role at the club."
An EFL spokesman said: "The EFL welcomes the comments made by Mr Belokon in regard to the application of its rules under the remit of the Owners' and Directors' Test, which is an objective assessment against a fixed criteria, to ensure a consistent approach is achieved.
"Last week's meeting was a useful and productive exercise in that both parties were able to clearly set out their position in relation to the matters which have received much public attention in recent weeks and months.
"As Mr Belokon has outlined, ensuring our rules are appropriately and fairly maintained remains fundamental to the integrity of our competitions in all circumstances. These apply not only in the instance of Blackpool FC, but across all 72 EFL clubs.
"The EFL has committed to continue working with Mr Belokon and his representatives in order to address the current position in line with our regulations. It is not in the interest of the EFL to prevent willing individuals from owning or investing in our clubs and we will only do so when our regulations provide that we must."