BBC Sport - Fenando Alonso says fight for victory is 'nice surprise'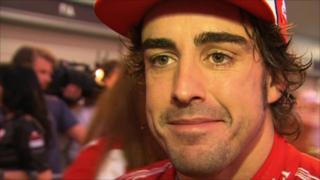 Podium 'nice surprise' for Alonso
Ferrari's Fernando Alonso is surprised after finishing the Japanese Grand Prix fighting for victory at Suzuka with McLaren's Jenson Button after a determined drive.
Alonso has now been joined as a double world champion by Red Bull's Sebastian Vettel, and says Ferrari must "improve a lot" is they are to challenge for the championship next season.
Available to UK users only.