BBC Sport - Brazilian GP: Lewis Hamilton 'in a good mood' despite qualifying second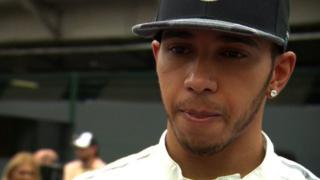 Hamilton happy with Brazil qualifying
Lewis Hamilton tells Lee McKenzie he is "in a good mood" despite qualifying second to Nico Rosberg at the Brazilian Grand Prix.
Hamilton admits Rosberg has "been on top all weekend" after being fastest in each of the practice sessions, but nearly turned the tables on his team-mate at the last minute in qualifying before being pipped by a last-gasp effort from his championship rival.
Rosberg heads into the race 24 points behind Lewis Hamilton, with 75 points still available in the remaining races in Brazil and in Abu Dhabi in two weeks' time.
Available to UK users only.