Ross Brawn says Formula 1 'can't leave engines as it is'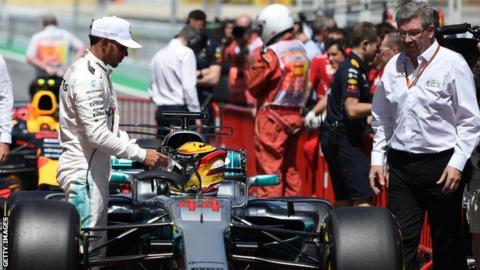 Formula 1 sporting boss Ross Brawn has defended plans to introduce a new, simpler, louder engine in 2021, saying: "We can't leave it as it is."
F1 car manufacturers have objected to the proposal made last month by the F1 Group and governing body the FIA.
But Brawn, F1's managing director of motorsports, says it is necessary to safeguard the future of the sport.
"The current engine is an incredible piece of engineering but it's not a great racing engine," he said.
"It is very expensive, it doesn't make any noise, it has componentry that in order to control the number of uses is creating grid penalties that make a farce of F1, there are big differentials of performance between the competitors and we are never going to get anyone else to come in and make engines."
He says he is not necessarily committed to any of the proposals he has put forward and is willing to discuss the issues with the four car manufacturers in F1 - Mercedes, Ferrari, Renault and Honda.
What's the problem?
Since 2014 F1 has used 1.6-litre V6 turbo engines with complex hybrid systems made up of two separate energy-recovery devices - the MGU-H on the turbo and the MGU-K on the rear axle.
They have led to revolutionary progress in terms of thermal efficiency - the proportion of fuel energy that is converted into power - but have proved expensive, complex and unpopular with many fans because of their muted sound.
Brawn says F1, the FIA and the teams set themselves a number of objectives for the new engine formula, which is to be introduced after 2020. The engines must be:
less expensive to develop and produce
simpler
road-relevant and hybrid
have a better sound
fitted with some standard parts
used by a driver at its full potential all of the time
The proposal made by the FIA and F1 was for the same basic architecture as the current engine but removing the MGU-H, introducing some standard parts and restrictions on components, and making the hybrid element driver-controllable to improve the racing.
Mercedes and Renault have objected to this on the grounds that it constitutes a new engine and will incur significant development costs. Ferrari have complained about too much standardisation and threatened to pull out if the rules are not to their liking. Honda have not offered a public opinion.
The car companies also objected to the announcement of the engine being so detailed, which they felt gave it the impression of a fait accompli.
Solving the impasse
Brawn says he was "a little bit shocked at the response we've had", because the manufacturers had all been involved in a series of meetings that led to the proposal.
"Reflecting on it, maybe we could have presented it differently," Brawn said. "But I didn't anticipate the response to be as strong as it was.
"We've had another meeting since then and I've made that comment. If that is the the thing people are most upset about, then I apologise. But let's not lose sight of what we are trying to do. If they were uncomfortable with the way it was presented, it wasn't intended that way."
He says he is open-minded about potential solutions "as long as those principles that we've set out are achieved".
He added: "If a manufacturer can demonstrate that there is a better way of doing it than what has been proposed - i.e. it is cheaper, it is more appealing to the fans, it is something that a new supplier could engage with; any of those factors - then why not?
"We are not wedded to specific solutions. We think with the expertise that we've got and the work we've done, these are the solutions that can work.
"If somebody suggests another solution that they think will achieve the same objective, we are not going to say no."
Addressing Ferrari's quit threat
Ferrari president Sergio Marchionne reacted to the proposals by saying: "If we change the sandbox to the point it becomes unrecognisable, I don't want to play any more."
He singled out "power-train uniqueness" as a non-negotiable for Ferrari.
Brawn said: "I recognise it is important to keep the identity of a Ferrari or a Mercedes engine. They need to be able to say: 'That is our engine.'
"I don't think we have crossed that boundary but now the proposal is on the table we need to meet with these people and understand what it is they are comfortable with and what they are not.
"All the manufacturers like a large chunk of the proposal; it is just not the same chunk."
Is it a new engine?
The main objection of the manufacturers to the proposal is that it constitutes a new engine that incurs extra costs for them and provides no guarantee of attracting new entrants.
Mercedes F1 boss Toto Wolff said: "We must avoid developing a new engine concept that will trigger immense costs."
Brawn says: "I accept it is a new engine but I think the economics of it will be justified."
Show us the money?
Wolff and Renault F1 boss Cyril Abiteboul have pointed out that they are being asked to commit to designing a new engine at a time when they do not know what commercial deals they are being offered for the period after 2020.
There is also a growing sense of unease among the teams that the sport's owner, Liberty Media, is investing a lot of money in trying to promote F1 but that the costs of this are having an effect on the teams' prize fund.
The teams have not seen a detailed plan for the future of the sport, and are unconvinced by some of the small-scale changes that have been made or proposed by commercial boss Sean Bratches.
There has also been a lack of clarity from Liberty as to the amount of prize money the teams can expect in future years, and concern that payments have gone down year-on-year for the third quarter in 2017 and are projected to decrease next season.
Brawn said: "We need to convince the teams not to throw the baby out with the bathwater.
"There is a bigger discussion on the whole commercial side that needs to take place. That is going to be fierce and tough but we have the technical, commercial and cost-control sides of the sport to try to push forward.
"If we spoil that because we are having this debate about the commercial side, we are foolish, because this makes the business better and more sustainable.
"For many years, people were critical about the lack of development of F1 on the commercial side - social media, looking after the fans, all sorts of stuff.
"And now we are doing it, it is going to have a price. There will be an impact to make those investments and get the thing rolling and in my view that investment will pay off in the next few years.
"It will improve. We are conscious of the need to make sure the teams have more predictability of what the numbers are."
Attracting new entrants
Abiteboul said he believed an independent engine company would still need to attract external financing to produce an engine under the new rules - a point with which Britain's Ilmor and Cosworth concur.
But Brawn said: "It's still an achievable project. A sponsor could be a manufacturer, or it could be a commercial entity that wants its name on an engine in F1. At the moment, it's not viable for anyone to come into F1. I believe we can create an environment where it becomes viable."
He said one of the main triggers for introducing a different engine was to end the problem of engine-related penalties - there have been about 700 grid-place penalties so far this season.
"I don't know how to get out of that with the current engine because the componentry is very expensive and the idea was that by limiting the number of components we'd keep costs down and avoid wastage," he said.
Road-relevance
The current engine formula was introduced by the FIA in an attempt to make F1 more relevant to technologies in road cars but Brawn says: "The technology has become very exclusive and elusive and I don't think it's the right solution for the sport."
"The FIA has recognised that having the ultimate technology is perhaps too high a price, even in F1," Brawn said.
"It has recognised there has to be a balance between between road-relevance, technology and what is the most sensible engine to have in F1 because the costs of the engine have got so high."
He adds that the MGU-H had so far not transferred into passenger road cars and is mainly being used in commercial vehicles.
One senior figure at one of F1's engine manufacturers said that the MGU-H was unlikely to be used in everyday road cars but could have some use in high-performance sportscars. Mercedes has recently revealed a supercar that contains a full F1 engine as the powertrain.
There has also been confusion as to why Brawn, as a representative of the F1 Group, is suggesting rule changes, which are traditionally the remit of the FIA.
Brawn says F1 and the FIA are "working together on" the engine proposal.
"We've become involved," he said. "I felt we always should be involved and we have added to the capacity for the FIA to analyse and regulate the sport.
"The working parties in this and other areas are pretty much joined at the hip."