Antrim win eighth straight Ulster U21 Hurling title as they beat Derry 0-16 to 1-9.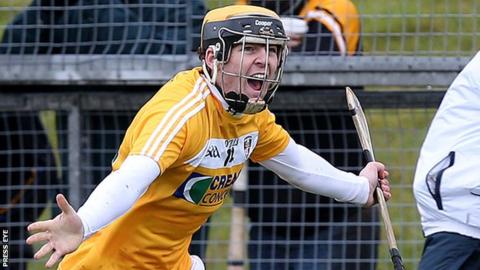 Antrim secured an eighth straight Ulster Under-21 Hurling title as they fought back from four down at half-time to beat Derry 0-16 to 1-9 at Loughgiel.
Cormac O'Doherty's early goal gave Derry a lead which they didn't lose until 14 minutes into the second half.
Saul McCaughan finished with 0-9 for Antrim with six of his points coming in the last 18 minutes.
Antrim have lifted the title every year since Derry's last triumph in the competition in 2008.
O'Doherty's goal helped Derry lead for the majority of the contest and the Oak Leafers led by four points on four occasions in the opening period.
A fifth O'Doherty point left Derry still four ahead 11 minutes after the resumption but they could only add a further two points as Antrim dominated the remainder of the contest.
Substitute Cormac Ross levelled the game at 0-10 to 1-7, after 44 minutes, with his side kicking on in the final quarter.
Maol Connolly, Alec Delargy and Christy McNaughton added to the hosts' tally during an impressive second half by Ollie Bellew's side.
After the game Antrim captain Damon McMullan accepted the cup.