BBC Sport - Belfast boy to play in All-Ireland Hurling final 13 months after being in coma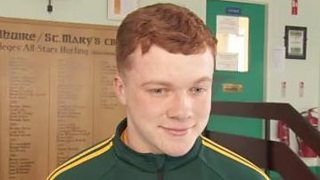 From coma to All-Ireland Colleges Hurling final
Odhran McKenna will be in the St Mary's Belfast squad in Saturday's All-Ireland Colleges Hurling B Final 13 months after he was in a coma following a road traffic accident.
Only prompt action by paramedics immediately after the accident kept Odhran alive as he had to be put in an induced coma.
McKenna helped St Mary's CBS win their 30th Mageean Cup Ulster title in October when he came on as a substitute and he will be on the bench for Saturday's game in Thurles against Limerick school, St John the Baptist.
Odhran, team-mate and twin brother CJ plus school principal John Martin speak to BBC Northern Ireland's Mark Sidebottom.