Get Inspired: How to get into Fencing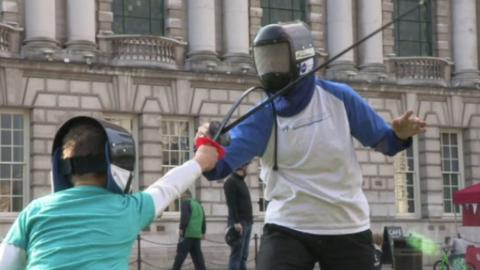 Fencing developed from an ancient form of combat, was referred to by writers from Homer to Shakespeare, and is one of just four sports to have featured at every modern Olympics.
At the first modern Olympic Games of 1896, the fencing programme consisted of men's foil and sabre events, with the epee making its debut at Paris 1900. Women's fencing first featured in the same city in 1924.
After the Games of that year, the Italian and Hungarian men's teams settled a scoring controversy with a real-life duel!
Why is it good for you?
Fencing is great for all-round fitness, muscle toning, building core strength, coordination and balance. Since you need to make lightning-fast decisions, it is also excellent for concentration and focus.
As competitors lunge at each other, it helps improve the flexibility in your thighs, hips, glutes, upper back, lower back and shoulders. Fencing's unique mix of physical and intellectual stimulation can burn approximately 400 calories per hour.
People of all ages can compete in the sport. At the Olympics, Sophie Lamon of Switzerland won silver in the women's epee team at the 2000 Games when aged 15, and Austrian Karl Munich competed at the 1912 Games at the age of 64.
Get involved
Fencing is available to people of all ages and is a fast, dynamic and explosive sport. There are more than 300 clubs in the United Kingdom you can contact to arrange training and matches.
Clubs are organised within sports centres, youth clubs, schools, colleges and universities. Many offer evening classes for those looking for more flexible times.
Most clubs charge a membership fee which normally includes the cost of tuition and hire of equipment. After a few weeks, new fencers may wish to purchase their own personal equipment.
British Fencing's GO/FENCE scheme replaces the traditional metal sword with plastic and foam versions to allow an introduction to be cheaper, quicker and safer.
GO/FENCE uses a different target area and only a plastic mask is required instead of the usual array of special protective clothing when metal swords are involved. Fencing with metal swords should never be tried unless supervised by a qualified trainer and the correct clothing is worn.
Further information can be found on the England Fencing, Northern Ireland Fencing, Scottish Fencing and Welsh Fencing websites.
More on the British Fencing website
History
Fencing, or at least sword-fighting, can be traced back to numerous ancient works which suggest the origins of the sport to be well over 4,000 years old.
The first rules of fencing appeared in 1474 in Spain but it wasn't until the 17th Century that the foil was used - being a lighter weapon, it made exercise more pleasant. The mask became part of the fencer's equipment in 1780.
The Italians, the Hungarians and the French were the first nations to create their own great fencing schools and today all three are among the great world fencing nations.
Fencing began the move from a form of military training to a sport in either the 14th or 15th Century, with both Italy and Germany laying claim to its origins.
It was included in the Olympics for the first time at the 1896 Games in Athens, and has remained on the programme since then. The women's fencing competition entered the Games in 1924 in Paris.
Are you inspired to try Fencing? Or maybe you are an enthusiast already? Get in touch and tell us your experience of the activity by tweeting us on @bbcgetinspired or email us on getinspired@bbc.co.uk.
See our full list of activity guides for more inspiration.