Get Inspired: How to get into Modern Pentathlon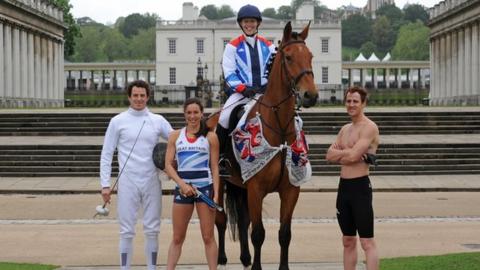 Modern pentathlon is unique - the only sport created by the founder of the modern Olympics specifically for its inclusion in the Games.
A day of modern pentathlon begins with fencing, followed by a 200m swim.
After that, athletes saddle up to compete in a showjumping round with a horse selected at random - in elite competitions, you never ride your own horse.
The finale is a combined run-and-shoot extravaganza similar to the winter sport of biathlon, in which athletes must run a short course then lower their heart rate sufficiently to shoot straight.
Why is it good for you?
Modern pentathlon's wide-ranging challenge saw it voted into the top 10 of Forbes magazine's list of the healthiest sports. Thousands of calories can be burned in a day's competition.
Fencing is great for all-round fitness, muscle toning, building core strength, coordination and balance. Due to the need for lightning fast decisions, it is also excellent for concentration and focus.
An hour's riding burns about 120 calories at walking pace, 360 calories at trotting pace and 480 at galloping pace. Although it may seem that the horse is receiving all the exercise, this equates to the calories lost in a 30-minute jog or cycle ride carried out at a similar speed.
Strength, stamina, hand-eye coordination and fine motor skills are improved in the shoot. Running helps lower blood pressure through strengthening the heart, builds stamina, burns extra calories, improves bone density and tones muscles.
Swimming aids the healthy functioning of the heart, lungs and circulatory systems. It works all the muscles in the body due to the effort of staying afloat in water.
Get involved
For those wanting to get started in England, Northern Ireland or Wales, find the appropriate home country or regional contact on the Pentathlon GB website. For people in Scotland, a list of affiliated clubs can be found on the Pentathlon-Scotland website.
You do not have to take part in all disciplines to take part in modern pentathlon events. The Modern Pentathlon Association arranges events for just two disciplines, run and swim (biathlon and biathle) through to competitions involving all five disciplines.
Many of Britain's current elite pentathletes got their start through a competition called the Pony Club tetrathlon.
A list of training events and competitions and an introductory video can be found on the Pentathlon GB website.
At development training sessions you should be able to borrow equipment in order to allow you to participate, although there may be a small charge to cover maintenance and replacement.
To compete in the United Kingdom, you have to become a member of Pentathlon GB or Pentathlon-Scotland.
For beginners, Pentathlon GB offers a 'First Steps' programme which includes free access to taster sessions and competitions within schools or clubs.
More on the Pentathlon GB website
History
The pentathlon has changed considerably since it was the climax of the Games in Ancient Greece, when it consisted of running, jumping, spear throwing, discus and wrestling.
The modern pentathlon was introduced by Baron de Coubertin at the Stockholm Games in 1912, comprising pistol shooting, fencing, swimming, horse riding and running.
Pierre de Coubertin invented the five-discipline sport from the romantic vision of a soldier sent on horseback to deliver a message. Along the way, the soldier is forced to dismount and fight a duel with swords before felling another enemy with a single shot, swimming across a river, and then running the rest of the way to complete his mission.
The sport has been included in every Olympics since 1912, when Lieutenant George S. Patton - later to become a famous US World War II general - controversially missed out on a medal because of a modest shooting score.
The holes in his paper target were so large that Patton maintained some of his other bullets passed through them, but the judges ruled against him.
In the shooting at London 2012, a laser pistol replaced the traditional pellet-firing air gun for the first time, while the running and shooting were merged into a single "combined event" finale.
Are you inspired to try Modern Pentathlon? Or maybe you are a keen enthusiast already? Get in touch and tell us your experience of the activity by tweeting us on @bbcgetinspired or email us on getinspired@bbc.co.uk.
See our full list of activity guides for more inspiration.