Get Inspired: How to get into Shooting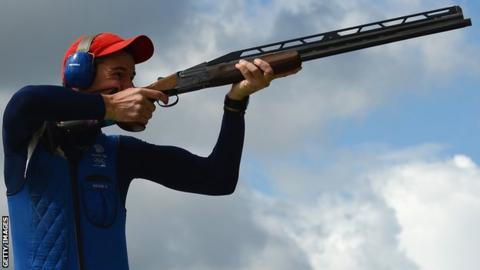 Shooting has been an Olympic sport since the first modern Games in 1896 and has a history of providing intrigue and drama.
There were just three shooting events at the inaugural modern Olympics, but this has grown to 15 disciplines, with 390 athletes from more than 100 countries competing at London 2012.
Why is it good for you?
Shooting is a tense sport that requires immense reserves of skill, concentration and nerve.
Strength, stamina, hand-eye coordination and fine motor skills are all improved by taking part.
As shooting events rely on mental power, people of all ages can compete against each other on equal terms.
The oldest gold medal-winner in Olympic history remains Sweden's Oscar Swahn.
He was part of the single shot running deer team at the 1912 Games in Stockholm when aged 64.
Get involved
To learn the techniques involved in pistol and rifle events, beginners are advised to try out the National Rifle Association of Great Britain's probationary courses for membership.
The three-month-long programme provides a good grounding in all the NRA shooting disciplines including Target Rifle, F-Class rifle, Gallery Rifle and Muzzle-Loading revolver. You will also learn how to safely handle the guns.
You can find your nearest club on the National Rifle Association of Great Britain's club finder.
If you are interested in trying out small-bore rifle shooting visit the National Small-bore Rifle Association's website. For those interested in clay pigeon shooting, you can find your nearest local club on the Clay Pigeon Shooting Association website.
For those interested in shotgun events outside of England, the Scottish Clay Target Association,Ulster Clay Pigeon Association and Welsh Clay Target Shooting Association websites all contain information on training sessions and competitions.
To ensure safety, it is vital all sessions are overseen by qualified trainers.
Many clubs offer free taster sessions. As gun ownership is strictly licensed in the United Kingdom, you can rent equipment from clubs, with members often hiring guns at concessionary rates.
More on the British Shooting website
History
Shooting as a sport has been practised for hundreds of years in European countries, with some German shooting clubs dating back more than 500 years.
With the exceptions of the 1904 and 1928 Games, shooting has featured on every Olympic programme since the first modern Games in 1896. Women's events were added to the schedule in 1984.
There was live pigeon shooting in Paris in 1900, pistol duelling at the unofficial Games six years later - when participants shot at mannequins in frock coats - and when London first hosted the Olympics, competitors shot at cardboard cut-outs in the running deer competition.
The live pigeon shooting event at the 1900 Games in Paris marked the only time in Olympic history when animals were deliberately killed in the name of sport.
Leon de Lunden of Belgium bagged 21 birds to clinch the gold medal.
More recently, China's Wang Yifu fired his last shot at the 1996 Olympics while collapsing to the floor due to low blood sugar levels. When he came round, he was told that he had managed to win silver.
The 2008 Olympics was memorable for the story of another Chinese competitor, Du Li. She had been expected to become the host nation's first winner on the opening morning of the Games, but she finished out of the medals in the 10m air rifle and broke down in tears.
Her emotional redemption came five days later with gold in the 50m rifle 3-position.
Shooting also endured its first major doping case in Beijing, when Kim Jong-su of North Korea was stripped of his medals in the 50m pistol and 10m air pistol after testing positive for banned beta blocker propranolol.
Are you inspired to try Shooting? Or maybe you are a keen enthusiast already? Get in touch and tell us your experience of the activity by tweeting us on @bbcgetinspired or email us on getinspired@bbc.co.uk.
See our full list of activity guides for more inspiration.