BBC Sport - Get Inspired: Kai's swimming challenge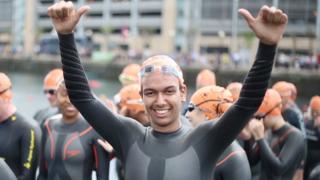 Kai's swimming challenge
18 year old Kai missed out on swimming lessons at school and as a result became disillusioned with the sport.
Like many teenagers Kai played computer games, ate junk food and watched a lot of TV. Unfortunately, he broke his leg and realised that he had put on a lot of weight.
Through rehabilitation a few years later he started running with a group called Run Dem crew and became a much better person physically and mentally.
As a result he decided to join Swim Dem and the Swim Challenge to learn a new skill, for two reasons: he'd never been encouraged in the past and because he's never been able to afford the lessons.
He challenged himself to learn to swim to prove anyone can do something if they put their minds to it and in the process he wanted to make his mum a very proud lady.
Considering the huge challenge he has ahead of him does he also have what it takes to swim a mile in open water?
Use this guide to find a way to get yourself in the pool and into swimming.