BBC Sport - FA People's Cup 2017: Meet a team who has played in the free five-a-side competition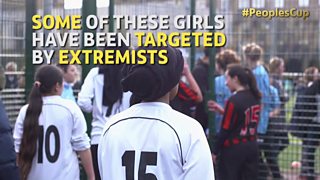 Football helps girls find different path
There are some amazing stories behind those who take part in the FA People's Cup.
Meet Tuff FC for example, who used the free five-a-side competition as part of their ongoing battle against radicalisation.
You can find out how the girls and more than 40,000 other players got on in the FA People's Cup with our live text commentaries from the following days:
Friday, 24 February, Saturday, 25 February , Sunday, 26 February
Watch first-round highlights on the iPlayer from Saturday morning, 4 March and the Red Button from 14:10 GMT the same day and throughout the weekend.
If you're competing in the FA People's Cup, please share videos and pictures of your best goals, celebrations and funny moments using #PeoplesCup on social media. The best ones might even make it onto an FA People's Cup programme on BBC iPlayer!
More FA People's Cup videos