BBC Sport - FA People's Cup 2017: Lisa from She Can Play Mums gets ready for first-round debut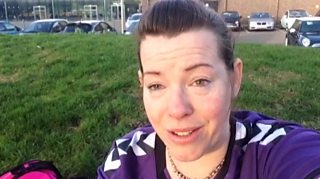 What it means to play in the People's Cup
Lisa from the She Can Play Mums gets ready for her debut in the FA People's Cup, which kicks off this weekend.
Watch first-round highlights on the iPlayer from Saturday morning, 4 March and the Red Button from 14:10 GMT the same day and throughout the weekend.
If you're competing in the FA People's Cup, please share videos and pictures of your best goals, celebrations and funny moments using #PeoplesCup on social media. The best ones might even make it onto an FA People's Cup programme on BBC iPlayer!
More FA People's Cup videos