BBC Sport - FA People's Cup 2017: Boys from Nancy mirror Claudio Ranieri and Leicester City with manager 'sacking'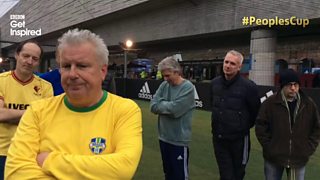 'Champions' Boys from Nancy 'sack' manager
Win the title last year? Check.
Vote of no confidence this year? Check.
Coach sacked? Check.
Team-mates jumping ship? Check.
No we're not talking about Leicester City and Claudio Ranieri.......
Following 6-0, 6-0, 7-0, 8-0 in the FA People's Cup defeats Boys from Nancy have 'sacked' their manager.
(You might recognise David from TV and stage. He's a star of TV and stage. Think Doctor Who, Silent Witness, W1A)
Watch first-round highlights on the iPlayer from Saturday morning, 4 March and the Red Button from 14:10 GMT the same day and throughout the weekend.
More FA People's Cup videos