International Handstand Day 2017: Get ready to go upside down with the world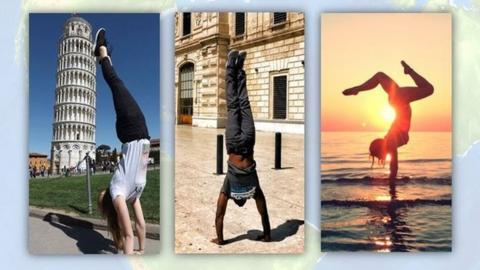 In the gym, at the park, in your living room or on a surfboard - we don't care where you are, we want to see your attempts at a handstand.
On Saturday, 24 June, Get Inspired is teaming up with British Gymnastics to celebrate the humble move as part of International Handstand Day.
Use #HandstandDay on your social media accounts and show off your skills to the world.
We'll be running a special live page on the day to collate the top efforts.
Handstands are one of the most fundamental gymnastics moves. You'll not only spot them in Max Whitlock's floor routine, but you'll also see them in other activities like diving, yoga and snowboarding (to name just a few). And from what we've seen in previous years, they can be done just about anywhere.
Whether you are an expert at the handstand or haven't tried to perform one in years, we want to see what you can (or can't) do and let the public enjoy your efforts.
Take a video or photo and use #HandstandDay on Instagram, Twitter or Facebook to get noticed. It's that easy.