BBC Sport - Couch to 5K: Teacher's story from 26 stone to Birmingham half marathon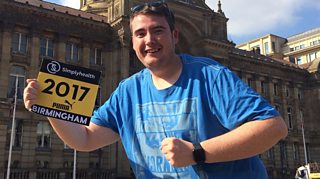 'If I can do it, anyone can' - teacher's Couch to 5K story
Stuart Warner, a teacher from Birmingham, tells us how taking inspiration from the London Marathon has transformed his life, as he prepares for the Great Birmingham Run.
There are 12 weeks to go until the event - often cited as the minimum training period for a long-distance run - so if you want to get involved, sign up today.
Can't get to Birmingham? Find out about running clubs and resources near you with our Get Inspired guide, or check out the Couch to 5K app, here.