Adele Roberts' health hacks part two: BBC Radio 1 DJ to help you get fit in the new year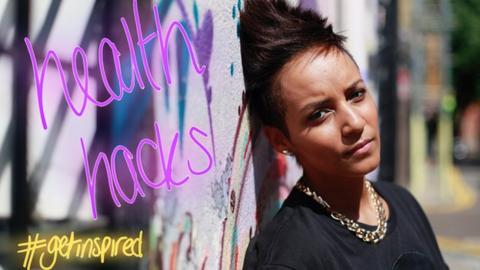 We're nearly a week into the new year, so how is that new fitness pledge you made going?
As we get back into our day-to-day routines of working life, it can be hard to get yourself to the gym each day.
Towards the end of last year, BBC Radio 1 DJ Adele Roberts shared a few of her top health hacks to get you on the road to fitness more easily.
Adele is continuing with us through January, posting daily health hack videos on BBC Get Inspired Twitter,#GetInspired and on the BBC Sport Instagram account.
Here are this week's top three...
Borrow a pal's dog
A dog is for life, not just for Christmas. Well, not necessarily.
Walking is the easiest way to get active and what better way to get fit than to borrow a friend's dogs and take them for a stroll.
Adele's furry friends belong to BBC Radio 1 Breakfast Show presenter and DJ Nick Grimshaw.
Don't hit snooze
What's that noise? No, it can't be the alarm. Surely it's not time to wake up? Well, I'll just press snooze and the world can wait for me.
Sound familiar?
Getting yourself out of bed in the morning can be tough. Adele has a top tip on how to wake up on time and seize the day.
Digital detox
Tablet, phone, desktop, laptop, social media, apps, games console - the list is endless. We are all consumed by digital in different ways.
Adele makes sure she takes some time out from technology - even just for a few hours - each Friday to relax her mind.
Want some more ideas on how you can workout and keep fit at home? Check out this BBC Get Inspired guide.