Adele Roberts' health hacks part three: BBC Radio 1 DJ to help you get fit in the new year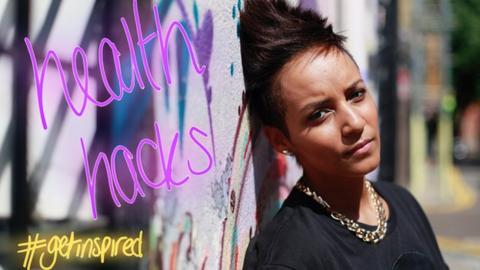 As we approach mid-January, are your exercise-related new year resolutions sticking?
Over the course of the month, BBC Radio 1 DJ Adele Roberts is sharing her top health hacks to get you on the road to fitness more easily.
The daily videos are being shared on BBC Get Inspired Twitter,#GetInspired and on the BBC Sport Instagram account.
So far, the weekly best clips this month have included:
And here are this week's top three...
Shopping bicep curls
You've just done your weekly shop, full of all those greens, beans and nutritional foods. But, before you lump your bags down, do a few sets of bicep curls. Handy tip - make sure the bags are more or less the same weight - you don't want to end up with one bicep bigger than the other.
Walk and talk
Everybody loves a good chinwag on the phone. Whether it's a work call or chatting away to a friend or loved one, use that time to take a walk and get those steps in.
Find a fitness friend
It can't be hard to motivate yourself at times, so find yourself a friend who is in the same boat. Reach out to pals, colleagues and your social networks to see if anyone fancies joining you on your quest to fitness.
Want some more ideas on how you can workout and keep fit at home? Check out this BBC Get Inspired guide.