Mickelson and Bradley lead in Northern Trust Open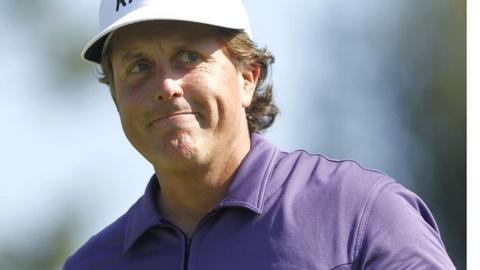 Northern Trust Open - third round leaderboard
-7:

K Bradley (US), Phil Mickelson (US)

-6:

J Byrd (US), P Perez (US), B Molder (US)

-5:

A Baddeley (Aus), D Johnson (US), B Haas (US)

-4:

R Moore (US), J Lyle (US)

Selected others:

- 2 J Rose (Eng), level L Donald (Eng), +1 E Els (SA)
Phil Mickelson and Keegan Bradley will take a one-shot lead into the final round of the Northern Trust Open.
Mickelson, who won last week at Pebble Beach, fired a one-under 70 for seven under to remain in front as US PGA champion Bradley shot 66 to join him.
The US trio of Jonathan Byrd, Pat Perez and Bryce Molder ended six under, while England's Justin Rose was two under and world number one Luke Donald level.
"I've led all the way and I'd like to do it to the finish," said Mickelson.
"I'm going to put everything I have into it to see if I can bring out some of my best golf."
Left-hander Mickelson, 41, is aiming for a 41st PGA Tour title but was struggling with some wayward driving and was forced to scramble to stay in touch with Bradley.
"Usually when I win, I'll have two good rounds and I'll have two rounds that aren't so great that I've got to keep somewhere in it to give myself a chance," said Mickelson, following scores of 66, 70 and 70.
"Yesterday and today I didn't play the best. I wasn't far off. I hit some good shots at times that didn't quite turn out, but I was playing very defensive all day just trying to make pars. I'll get it turned around.
"Today was a big day because if I didn't fight hard and make pars from some of the places I was at, then I'd be trying to play catch up to a lot of guys."
The four-time major winner was pleased with his par save at the driveable 315-yard 10th, where his tee shot ended up well left of the green behind a Bottle Brush tree.
He then clipped a branch with a lob wedge and failed to reach the green in two. But he struck a deft chip from a swale to three feet and holed the putt.
"That was a good par because it's still a tough up-and-down even down in that valley," said Mickelson.
"I hit a good pitch into that bank three feet left and made it. That was a good one because where I was off the tee I was trying to make par."
Bradley, 25, who has been helped by Mickelson since he first met the three-time Masters champion at the 2011 Houston Open, sank a nine-footer on the 18th green to seal his 66.
He said: "I kind of figured that [putt] might be to get in the final group with Phil. I really look up to him, and I watched him play a lot of Sundays growing up.
"I enjoy the atmosphere and everything playing with Phil. And any time you play with Phil means you're playing pretty well.
"I'm just trying to stay patient. If you stay patient and you just play good golf and not try to force it, you're going to be okay. I've just done a good job this week of staying patient."
"I love Phil. Everything he's done for me is great, and if I didn't win tomorrow, I would hope he would."