Peter Whiteford disqualified over ball-moving incident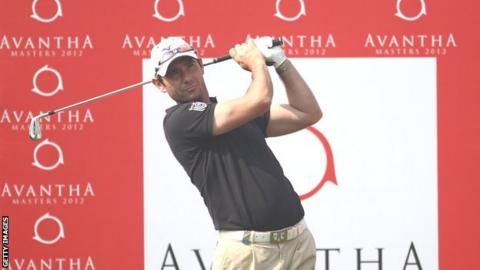 Avantha Masters final scores
-14:

Jbe Kruger (SA)

-12:

Jorge Campillo (SPA), Marcel Siem (Ger)

-11:

Marcus Fraser (Aus), Jose Manuel Lara (Spa)

Selected others:

-8 Paul McGinley (Ire), -3 Gareth Maybin (NI), Marc Warren (Sco)
Scot Peter Whiteford was disqualified from the final round of the Avantha Masters in New Delhi over a ball-moving incident late in his third round.
The Fifer, one off the lead as he teed off for his fourth round, had asked those close to the scene for their opinions on whether the ball had moved.
But he signed his scorecard for a lower score without checking with officials.
Whiteford, 31, said: "I should have reviewed it. I'm not cheating. It's one of those things but disappointing."
Television replays of Whiteford's third shot to the 18th showed that his ball rolled a fraction before he played to the green.
Whiteford, still to win on the circuit, was leading the field after the first and second rounds and was still in front when he double-bogeyed the 17th hole on Saturday.
"I should have reviewed it. You can see it when you look at TV. John spoke to me before I went out, so to be honest my head wasn't in it from the first tee," he said.
Officials reviewed the matter as Whiteford began his final 18 holes and was given the bad news just after bogeying the short third.
European Tour chief referee John Paramor said: "Peter felt his ball may have moved and for confirmation asked his caddie, a fellow competitor and a TV cameraman, who said they didn't think it had and so he continued on to finish the hole and sign his scorecard for 72.
"Overnight, several viewers contacted the Tour website. This was reviewed by the rules committee, who were able to determine that the ball had in fact moved.
"He should have incurred a penalty of one stroke and replaced the ball.
"As he did not do so, he was disqualified for signing for a score lower than taken for failing to include the penalty he had incurred.
"If he had contacted a member of the rules team before signing his scorecard, the footage would have been reviewed at the time and he would have averted the disqualification penalty."
It was a happier tournament, however, for South Africa's Jbe Kruger, whose final-round 69 was enough to finish 14 under and secure a two-stroke victory.
Spain's Jorge Campillo signed for 67 - the joint best of the day - to finish tied for second with Germany's Marcel Siem.
Marcus Fraser, of Austria, and Spaniard Jose Manuel Lara finished three off the lead.