Masters 2012: Charl Schwartzel plans BBQ for Champions Dinner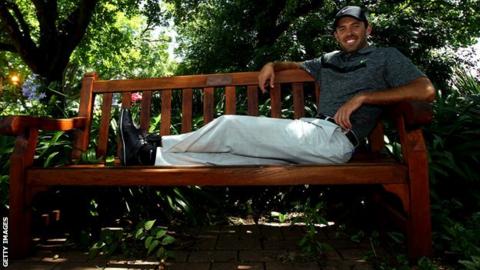 Masters champion Charl Schwartzel wants to cook his own barbecue for his Champions Dinner at Augusta.
The South African is yet to gain approval from Augusta officials, but Schwartzel hopes his event will offer something more informal.
Traditionally the previous year's winner chooses the menu for the dinner for former champions and selections often reflect the hosts' homeland.
"In South Africa we call it a 'braai'," explained the 27-year-old.
"I like it to be fun and relaxed, with something that everyone will eat."
The exclusive event, which was first held in 1952 with defending champion Ben Hogan as host, is only open to past winners and select officials and is held behind closed doors in the Augusta National clubhouse.
But Schwartzel, who birdied the last four holes to win the 2011 Masters by two strokes, added: "I don't like very formal dinners.
"I thought of keeping it very relaxed, sort of standing around a fire and cooking the meat.
"That's what I do when I'm home on my off time. Every night I cook meat on the fire. I thought that was something to do."
Schwartzel plans to prepare the hot food himself - including steaks, lamb and sausages - on the lawn outside the Augusta clubhouse but has yet to receive the go-ahead from the organising committee.
"Only thing that could stop me probably if there's too many people - then it's very difficult to do the meat yourself," he said.
"We're still waiting for confirmation if it will be allowed, see how it works.
"The initial response was obviously, 'We'll come back to you on that.' I think it took them quite by surprise, maybe expecting something a little more different or more the way they always do it."
Augusta chiefs may be worried the outdoor nature of Schwartzel's idea may shatter the mystique of the event.