BBC Sport - The Open 2016: Rory McIlroy unrepentant over withdrawal from Olympics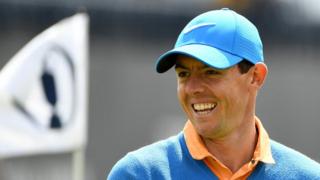 McIlroy unrepentant over Rio withdrawal
Rory McIlroy says he has no regrets over his decision to withdraw from the Olympics and says he may not bother watching the Rio golf action on television.
"I'm very happy with the decision I've made," said McIlroy, who after much deliberation, made the decision to withdraw from the Rio Games last month because of his concerns over the Zika virus.
"I'll probably watch the Olympics, but I'm not sure golf will be one of the events I'll watch."
Asked which events he'd watch, McIlroy replied: "Probably the events that…track and field, swimming, diving, the stuff that matters."
McIlroy rejected suggestions that the decision of several top players to withdraw from the Olympics was "letting the game down".
Top videos