Catriona Matthew: Male golfers' stance on Zika 'odd'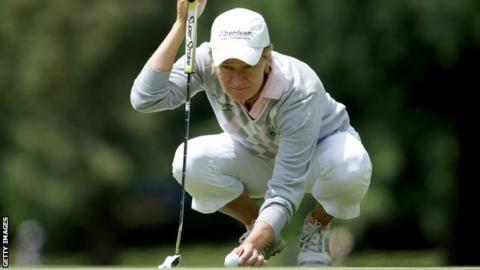 Catriona Matthew thinks it "slightly odd" that so many male golfers have withdrawn from the Rio Olympics citing concerns over the Zika virus.
But the Scot, whose place in Team GB has been confirmed, added: "You can't question someone else's decision."
Carried by mosquitoes, the virus has been linked to babies being born with underdeveloped brains and the top four male golfers will not go to Rio.
"It's everyone's individual decision," Matthew told BBC Scotland.
"I can see where at the moment the Olympics isn't perhaps the pinnacle of their golf career. Once it's been in three or four times, if it stays in, then that could change. Obviously, the majors have a lot more history behind them."
Matthew, 46, has qualified for Rio alongside Charley Hull, while Justin Ross and Danny Willett qualify for the men's competition, with golf returning to the Olympics for the first time in 112 years.
Jason Day, Dustin Johnson, Rory McIlroy and Jordan Spieth have decided against competing in Brazil but Matthew has no worries about making her Olympic debut.
"I suppose a few months ago I was a little bit concerned about it, but I've spoken to one of the players who lives in Rio and she said it's the winter down there and it really shouldn't be an issue," she explained.
"And obviously I've had my family now, I'm not going to be having any more children, so I'm really not concerned about it."
Asked whether the withdrawals diminish the competition, 2009 Women's British Open winner Matthew replied: "Yeah, I would say it has to.
"I mean obviously when the top four men are missing it lessens any tournament the men are in. But we're lucky and all the top women are going so it will be a top field. To win any Olympic medal would be a fantastic achievement.
"It's not something that I ever expected in my career. It's been a goal of mine this year to try and get in to the team - that was definitely an added incentive to play well and try and get the points.
"I've been playing well this year, all the top women are going so you know you're going to have to play well, but I know I'm capable of doing that."
However, Matthew is disappointed that the format of the Olympic golf competition is solely an individual stroke play competition played over 72 holes with no team event.
"That's the unfortunate thing," she added. "I think they probably could have done a better format.
"It's a shame, I hoped there might have been some kind of team element. They could have done an individual and a team thing, but it'll still be a great experience."