BBC Sport - Stephanie Meadow back on course again after trauma of father's death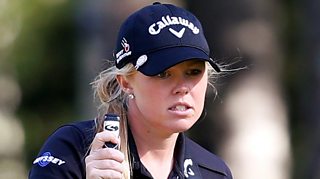 Meadow back on course after 'tough times'
Northern Ireland golfer Stephanie Meadow is optimistic that her career is back on track after being devastated by the death of her beloved father Robert in May 2015.
After finishing a brilliant third on her professional debut at the 2014 US Women's Open, Meadow lost her father 11 months later and shattered by her bereavement she struggled to regain form on the course.
However, Meadow's game gradually began to return last year and the 24-year-old told BBC Northern Ireland that earning a place at the Rio Olympics as golf returned to the Games was the further boost that she needed.