BBC Sport - Irish Open 2017: Time for 'light to shine' on Portstewart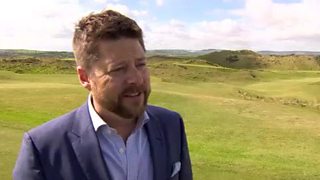 Time for 'light to shine' on Portstewart
The Irish Open at Portstewart is going to be an "unmissable" event, according to Championship Director Simon Alliss.
Some of golf's biggest names are playing at the tournament, which is hosted by the Rory Foundation, on 6 to 9 July.
Olympic champion Justin Rose, former Masters champion Danny Willett, Lee Westwood, John Rahm and Graeme McDowell will be among those joining Rory McIlroy, and Alliss told BBC Sport NI's Stephen Watson that the tournament "is going to be the biggest one yet".