Champions Trophy: Britain's silver lining in Argentina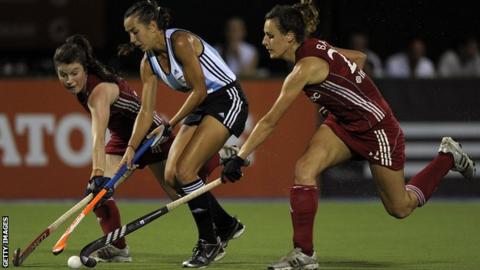 Great Britain's women have broken through the glass ceiling and taken their biggest step yet towards Olympic gold.
Eight years ago, the team failed even to qualify for the Athens Olympics. Four years later, they finished sixth in Beijing. Now, despite a 1-0 defeat by Argentina in Sunday's Champions Trophy final, they are at worst realistic medal contenders at their home Games.
Coming so close to gold and settling for silver is rarely much fun, but this tournament has been vitally important to British self-belief. They have taken on the Olympic champions, the Netherlands, world champions Argentina and world number three side Germany - the only nations above them in the world - and matched each of them, while ending a lengthy run of bronze medals.
In the past couple of years, Britain have become adept at winning bronze. Two in recent Champions Trophy tournaments, two at the European Championships in 2009 and 2011, one at the 2010 Commonwealth Games and one at last year's World Cup (in the same Argentine city of Rosario).
At first, bronze medals represented another step along the road. Whether playing as England or Britain, UK hockey players had not made regular podium appearances like that for years, and Olympic bronze in 1992 was the last major medal won. But, by the fourth or fifth bronze the current crop racked up, a creeping fear might have emerged that this was as good as it would get.
Not for nothing did Britain's Ashleigh Ball tell BBC Sport before this tournament: "It would kill us, again, to get a bronze. I think the point has come and gone where we will not take bronze."
Just by reaching the final, the team broke that spell and proved they can climb to the top. The Champions Trophy, ranked third behind the Olympics and World Cup, is a tough tournament, played in challenging heat and humidity.
Playing hosts Argentina in the final of one of that country's national sports, in a highly charged and vocal atmosphere, proved the biggest test yet of the world-class talent, strength, stamina and resolve this British squad has worked so hard to develop.
Argentina, in turn, showed the experience of every one of the many finals they have played in at this level. Once they took the lead through Silvina d'Elia, Britain barely carved out a chance. Helen Richardson and Alex Danson, so often crucial cogs in the British attacking machine, found themselves marked out of the game and unable to create space to move, let alone scoring opportunities.
Gold remains beyond Britain's grasp but, at the last opportunity prior to London 2012, they have at last moved within sight of it. This summer, we will see the finished product of years of graft, both on the pitch and behind the scenes. Dedicated hockey fans are now bored to tears of the terms involved - phrases like "centralised programme" that have been trotted out for an entire Olympic cycle or more - but the strategy hammered home over the past four years looks to be paying handsome dividends.
That centralised programme, in which players from the home nations were united in a full Great Britain squad far earlier than usual, spending the past few years training together four days a week at Bisham Abbey, has created a close-knit, die-hard unit of almost 30 players. Only 16 of them can go to the Games, but every one has already played a vital role in revitalising British fortunes, driving team-mates on to better things.
There will not be another test like this before the Games. Yes, there are tournaments in May and June - the Olympic test event and London Cup, respectively, both with strong fields - but they do not hold the same international status and teams are unlikely to throw everything at them. Britain's last real statement to the world, before the world comes to Britain, is a promising one.
A thought, though, for Britain's men, who finished sixth in their Champions Trophy in December last year. The team took an 8-1 pasting by Spain during the tournament in New Zealand, amongst a string of results which read little like those achieved by the women in Argentina.
Does that mean the men's Olympic campaign is in jeopardy? Is there cause for panic? Has the same centralised magic potion somehow backfired?
The obvious answer is that there are far too many shades of grey in play. One silver medal has not turned Britain's women into hockey's dominant force overnight. It has simply shown they are closer than ever to realising the world-beating potential they have shown for years.
We have seen the British men play similarly well, not least in winning the European title in 2009. They also expressed surprise at some of the criticism received following their Champions Trophy campaign, explaining that they were in the middle of heavy training and not at full match sharpness.
The men are now in South Africa, enduring a stretch of warm-weather training in Stellenbosch. They, like the women, have no world-class tournaments left, but they would argue sixth place at a tournament for which they never intended to fully prepare makes little difference.
However, what better motivation than seeing the other half go out and succeed? This Champions Trophy may yet drive both teams on to Olympic greatness.
Great Britain Head Coach Danny Kerry said: "I thought Argentina played very well tonight. They defended well, they didn't create too many opportunities and their defence held out. We started to get back into it in the second half but it wasn't to be.
"We won four, drew one and lost just one in a major world level tournament. We've made history tonight winning the silver medal.
"After yesterday's game we had three or four players trying to find their game, we know where we need to improve and we will go forward and work on those areas. We have set ourselves high standards and I have to match the standards that the players have set themselves.
"That is the pressure I feel going into the Olympics."