EuroHockey: Lily Owsley - from meningitis to medal hope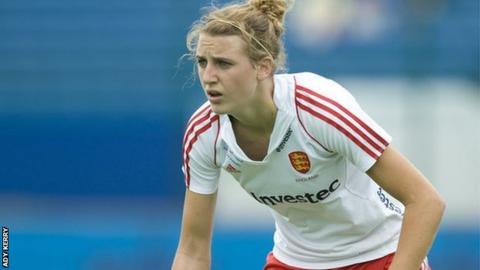 EuroHockey Championships 2015
Venue: Queen Elizabeth Olympic Park, London Dates: 21-30 August
Coverage: England, Scotland and Ireland pool matches live on Red Button, BBC Sport website, tablets, mobiles and app
Missing out on a gold medal by 11 seconds. Hooked up to a drip with a serious illness in hospital. Securing qualification for the Olympic Games.
Little wonder rising hockey star Lily Owsley describes the last year as a rollercoaster.
The 20-year-old will be hoping for another high when she plays for England in the European Hockey Championships, which start in London on Friday.
Here, the forward describes her Commonwealth Games heartache, reaching the Rio 2016 Games, the prospect of playing in the Olympic Park and a remarkable recovery from meningitis.
Commonwealth Games heartache
Still a teenager, aged 19 at her first major event, Owsley was 11 seconds away from being the scorer who gave England their first Commonwealth Games hockey title.
Then Australia equalised and went on to win on penalties.
"I hit my two peak emotions - I went from the happiest moment of my life when we scored the goal in the final to half an hour later when we conceded," she said.
"When that whistle went at that moment we were drawing but one team was bouncing off the walls, just scored and had the momentum, and the other has just had a gold medal ripped away from us.
"It was so hard to try to fight back from that. It was absolutely devastating."
While initially downhearted, the players had turned their form around from the previous disappointment of finishing 11th out of 12 teams at the Hockey World Cup less than two months earlier.
"We were told in time we would be proud of what we achieved and it just gives us extra drive and momentum," said Owsley.
"There is always going to be a part of me that is upset and angry we didn't get that gold. Once the tears had stopped, we debriefed and knew we had to stay together, but at the time you cannot be happy.
"I have watched it back. I am a bit of a hockey geek and watch a lot of videos. I have to see what happened so I don't have any doubt in my mind. Once you watch it back a few times, you can draw a line under it."
'Horrible but lucky' - the meningitis scare
"I was just feeling a bit ill at training. A little headache turned into a horrible, big headache."
Bristolian Owsley is describing how she fell ill in March of this year and spent several days in hospital with viral meningitis, before getting the all-clear.
"I'm quite lucky it happened at that time as it could have come at the Olympic qualifiers. It gave me enough time to get back and get playing again," she said.
"I was on a drip for a bit and you get quite a bit of medication but it went as quickly as it came with no side-effects.
Studying and sport
Owsley fits in studies for a degree in sports science at the University of Birmingham with her full-time hockey training
After finishing her final A-level - in PE - in 2013, she got straight on a train to join the team for matches in London
"The symptoms [including severe vomiting] are horrible. You do your best to get back just like an injury - if someone had torn a hamstring. You take time off to rest and recover.
"There's a period when everyone's worried, you don't know what's going on and that's scary. I'm lucky I've got youth on my side. My recovery period was so much quicker than it should have been and hopefully that's got something to do with me being athletic too."
Reaching Rio 2016
A month to the day after leaving hospital, Owsley completed a pitch training session. Three months after being discharged, she had helped Great Britain qualify for the Olympics with her goal sealing a 1-0 World League win over Germany in June.
"It has been quite a rollercoaster," she said.
"I didn't have the best build-up but as a team, the preparation was impeccable.
"To get official qualification was just unbelievable. In the previous cycle, we were the home team and never had to qualify. We now know we are going to the Olympics and everything can lead up to that."
Play in the Olympic Park? 'Don't be ridiculous'
Owsley will be returning to the Olympic Park for the Euros as an international three years after watching hockey at London 2012 as an enthusiastic spectator.
"When I went to watch the Olympics, I was still 17 and not that good a player - I was an athlete with a stick. Hockey hadn't really become my sport," she said.
"My dad said the Europeans in 2015 is in this Olympic Park and I was like 'Dad, don't be ridiculous, like I'm ever going to be in that', and then seven months later I joined the senior programme.
"We laugh about it now. It's just amazing to think I'm here."
When the women's team secured Olympic bronze, she was "screaming" at a TV alongside her under-21 colleagues at a training camp.
"I was thinking these girls are incredible, I will never be like this. It's crazy to think they are now some of my best mates, and I'm playing alongside them," she said.
Hopes for European glory
England's women, silver medallists at the 2013 Euros in Belgium, will be expected to progress from a group which also contains Scotland, Germany and Italy.
A clash with the in-form Netherlands could follow in either the semi-finals or final.
How the groups line up
Women
Men
Pool A - Belgium, Netherlands, Poland, Spain
Pool A - England, Netherland, Russia, Spain
Pool B - England, Germany, Italy, Scotland
Pool B - Belgium, France, Germany, Ireland
Top two in group reach semi-finals
"The Dutch will go in as favourites, being world and Olympic champions and they won their World League," said Owsley.
"They are a brilliant side. In the current shape and form we're in, I'm beyond excited to hopefully meet them at some point."
Owsley could celebrate a landmark during the tournament, when England take on the Germans in their second group match.
"I hope to get my 50th cap on my mum and dad's birthday on 26 August. When I was a kid I used to think every parent shared the same birthday, and it was the done thing," she said.
Inspired by the Lionesses
After football trials with England and running in the national junior championships at 800m in her early teens, Owsley was converted to hockey when trying the sport at Clifton College in Bristol.
"After one or two sessions, I said to my parents 'this is the best thing ever. I love it.' I was terrible, I couldn't hold the stick the right way round, but it didn't take me long to get the hang of it," she recalled.
"It's so fast and exciting. You have to be athletic, skilful and combine a lot of sporting talents."
A devoted Bristol City fan, Owsley said her team-mates had been inspired by the success this summer of England's women's football team, with the Lionesses winning an historic bronze medal at the World Cup in Canada under the guidance of her old football coach Mark Sampson.
"Mark was definitely someone who helped me," said Owsley, once a right-sided midfielder for Bristol Academy.
"He was understanding about the whole hockey-athletics situation. Football was my first love and it was my dream to play in a football World Cup, but I've no regrets. I love hockey."
Owsley said the hockey team followed the Lionesses' progress and she rang goalkeeping team-mate Maddie Hinch - who was in a restaurant with other players - when England were 1-0 up with five minutes left of their bronze-medal match.
"I said 'You need to be watching this.' It was unmissable even though it was at midnight or one in the morning. They watched the game on their phone. I'm not sure what the staff thought."
After third places for the England football and netball sides at recent World Cups, the women's hockey side will be going for European gold in London.
"We are so lucky as a group of girls that we just gel, and get on. We share the same goal and ambition and are essentially like a little family," she said.