Guernsey win first-ever EH Cup match with thrilling 4-3 victory at Sevenoaks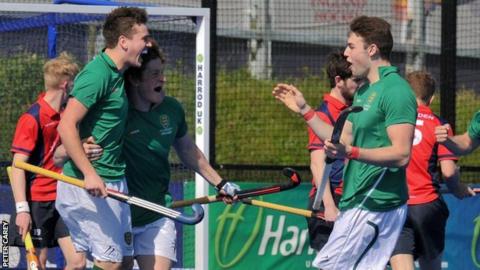 Guernsey's hockey team caused an upset in their first-ever match in the EH Cup as they defeated Sevenoaks 4-3 in the opening round of the competition.
Steve Waldrom, Sam Dawes and Morgan Harries put Guernsey in front on three occasions before Waldrom scored a spectacular winner in the second half.
Sevenoaks play in the second tier of English league hockey, while Guernsey only play in cup competitions.
"I feel brilliant, it was a terrific day," said Guernsey coach Andy Whalley.
"Sevenoaks are a really class outfit, one of the top national league teams, and we just put in a brilliant performance.
"The guys worked unbelievably hard, four times we led the game and finally to win it at the end was terrific and incredibly well deserved."
Guernsey reached the final of the second-tier EH Trophy in each of the last five seasons, winning the title in two of the past three years, but this was their first foray into the top-level event.
"We gave ourselves a one-in-five chance, Sevenoaks are right at the top of their game, they're three games into their national league season already, they're joint top of their league on nine points," added Whalley.
"Their pedigree is incredible, they're a Premier League indoor team as well, so their strength in depth is incredible
"I didn't expect the game to to and fro like it did. Each time we went up they drew level and the guys showed incredible character to just keep pushing and believing in what we do."