Irish Hockey League: Ards beat Pembroke Wanderers to move into fourth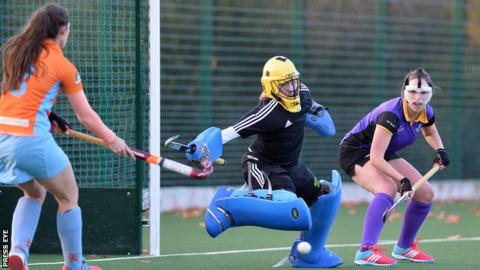 Ards moved up to fourth place in the women's Irish Hockey League by beating bottom club Pembroke Wanderers 2-1.
At the top of the table Hermes-Monkstown made it seven wins in a row to start the season as they beat Ulster Elks 5-0 and they increased their lead to four points as second place UCD were held to a 1-1 draw by Cork Harlequins.
The other two games between Loreto and Railway Union and the Ulster derby at Deramore Park where Belfast Harlequins were due to face Pegasus were called off because of frozen pitches.
It was a game of few chances between Ards and Pembroke at Londonderry Park but the deadlock was broken six minutes before half-time when Ellen Robinson pinched the ball just outside the circle and then produced a very composed finish to give the home side the lead.
They doubled their advantage in the third quarter when Tamara McLeod and Chloe Brown combined at a short corner with Brown scoring on the reverse stick.
Ards had other opportunities to put the game out of reach but Pembroke had the better of the final quarter and Caroline Hill's goal meant an edgy ten minutes for Ards to hold out to secure their fourth straight win and leave the Dublin club rooted at the bottom without a point.
A four-goal blitz in a ten minute spell of the third quarter saw Hermes-Monkstown continue their dominance of the women's club game.
Ulster Elks goalkeeper Rebecca Davidson pulled off a number of superb saves in a first half where she was only beaten once by the league's leading scorer Anna O'Flanagan.
She could do nothing however as the international trio of O'Flanagan, Chloe Watkins and Nikki Evans put the Ulster side to the sword after the interval with O'Flanagan completing a hat-trick.
The battle between second and third finished 1-1 between UCD and Cork Harlequins.