Irish Hockey League: Elks held by Wanderers at Jordanstown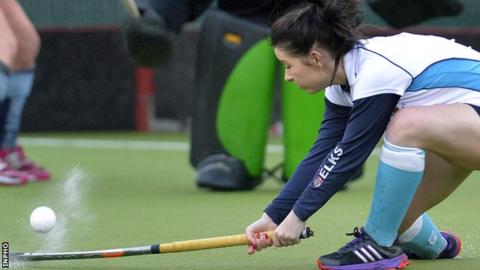 Ulster Elks missed a chance to ease their relegation worries in the women's IHL after a 2-2 draw with bottom club Pembroke Wanderers at Jordanstown.
Pegasus and Ards drew 1-1 in their Ulster derby while Belfast Harlequins remain in trouble at the bottom after a 2-0 defeat at Dublin side Loreto.
In the men's IHL leaders Monkstown increased their advantage at the top following a 5-1 win over Glenanne.
Lisnagarvey got back to winning ways with a 2-1 success over Instonians.
With the top two teams in the Women's Irish Hockey League, Monkstown and UCD, playing each other on Sunday the attention turned to the other end of the table and a clash between the bottom two sides entering play, Ulster Elks and Pembroke.
Axon opener for Elks
There was plenty of tension at Jordanstown and goals from Dawn Axon, on her return to the club and Dannie Wilson twice gave the Ulster side the lead but on both occasions they were pegged back.
It was Pembroke's first point of the season but for the Elks it did ay least lift them above Belfast Harlequins and into 10th place after Harlequins lost at Loreto with goals from Freya McDermott and Hannah McDermott.
However, only three points separate the bottom three sides at the halfway stage of the season with the last place team relegated and the side that finishes just above involved in a play-off.
Lucy McKee looked to have given Ards all three points in their derby with Pegasus at Queen's but the home side earned a 1-1 draw when Suzanne Ferris converted a cross from Hannah Craig with just 90 seconds remaining.
Elsewhere, Cork Harlequins missed the opportunity to move into second place when they were beaten 3-1 by Railway Union.
Monkstown increase gap at top
Monkstown stretched their lead at the top of the men's IHL to six points with a 5-1 home win over Glenanne. David Carson and Sam Hyland each scored twice.
Goals from Jody Hosking and Ross Canning were enough to earn Three Rock Roves a 2-1 success over Cork C of I and they moved into second place.
Banbridge have two games in hand over Monkstown and face UCD on Sunday.
Lisnagarvey ended their recent two-game losing streak when captain Daniel Buser scored the winner in a victory over bottom side Instonians, who scored through a William Robinson penalty corner.
Inst remain five points behind the two sides immediately above them in the standings, Glenanne and Railway Union, who were beaten 3-1 by Pembroke on Friday night.