Guernsey captain Aidy Peacegood praises commitment in EH Cup loss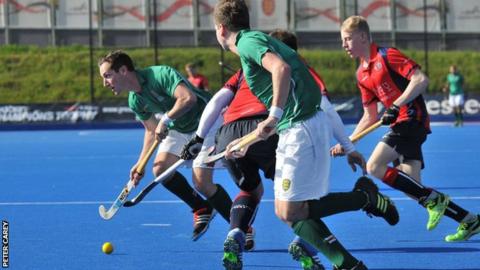 The captain of Guernsey's hockey team Aidy Peacegood has praised his side's commitment as they lost 7-0 to Reading in the third round of the EH Cup.
It was the first time the island had ever faced a Premier League club, having entered the top-tier knockout competition for the first time.
"It was always going to be our hardest-ever game, but we put our heart and soul into it," Peacegood said.
"7-0 on paper sounds very one-sided but it was actually a very good contest."
Having beaten Sevenoaks and London Edwardians in the previous rounds, Guernsey always knew they would face an almost-impossible challenge against a club who have previously been European champions.
"I would say a few of our Guernsey players could find their way into that Reading side," Peacegood told BBC Radio Guernsey.
"We can take a lot away from the game that can make us a better side for the run on the EH Trophy and the inter-insular next year."