Annadale and Lurgan win Ulster Boxing Day finals at Stormont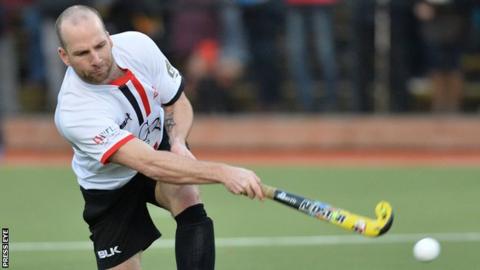 Annadale and Lurgan took the honours in their respective Boxing Day hockey finals at Stormont.
Ireland star Peter Caruth's hat-trick helped Annadale hammer Cookstown 8-1 in the men's Kirk Cup Final.
Caruth's day did end on an unfortunate note as he suffered an ankle injury late on which required an x-ray.
Two Sarah McClure goals helped Lurgan earn a first Ulster Shield triumph as they clinched a 3-1 success over Queens University.
There hasn't been much to choose between Annadale and Cookstown in the Ulster Senior League so far this season but on the pitch at Stormont the Belfast side were too good for their opponents as they romped to an 8-1 victory to win the Kirk Cup for a fifth time.
They dominated from the start with four first-half goals courtesy of Ben Wallace, Craig Getty, Caruth and Chris Heath.
Caruth added a penalty stroke after the interval and while Cookstown battled on bravely their only reward was a Greg Allen goal to make the score 5-1.
However Annadale showed no mercy with three late strikes from Peter Bland, Fergus Gibson and with the last play of the game Caruth produced an outstanding international class finish to complete his hat-trick, latching on to a through ball to thrash home a superb goal.
In doing so the Irish Olympian from Rio this summer damaged his left ankle.
After extensive treatment he hobbled away on crutches and was headed to hospital for an x-ray.
In the women's Ulster Shield final, all Lurgan's goals came from penalty corners.
A deflection from Lauren Wright gave them an early lead but by half-time QUB had equalised through Stephanie McCullough.
Two strikes from vice-captain McClure in the second half sealed the win for Lurgan.
The first was a direct shot from a short corner, the second a fine solo effort after a mazy dribble inside the circle followed by a composed finish.