Eurohockey 2017: men's and women's fixtures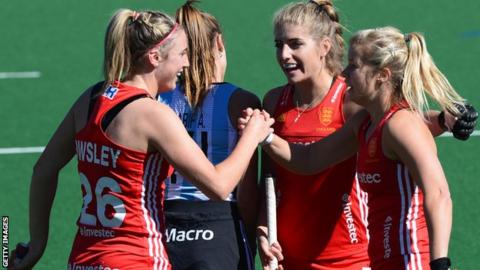 EuroHockey Championships 2017
Venue: Wagener Stadium, Amsterdam Dates: 18-27 August
Men's teams: Austria, Belgium, England, Germany, Ireland, Netherlands, Poland, Spain.
Women's teams: Belgium, Czech Republic, England, Germany, Ireland, Netherlands, Scotland, Spain.
England women will defend their EuroHockey Championship title in Amsterdam from 18-27 August, while the men will seek to build on their good form this year.
Record cap holder Alex Danson captains the women's squad, which contains several members of the Great Britain team which won Olympic gold at Rio 2016.
England will be led by assistant coach David Ralph while head coach Danny Kerry recovers after a heart attack.
England face world number seven side Germany, 16th-placed Ireland and 17th-placed Scotland in pool B.
England men won the Sultan Azlan Shah title for the first time earlier this year and lost just once - to the eventual winners the Netherlands - at the World League Semi-Final in London.
They will face Poland, Germany and Ireland - who beat England to bronze at the 2015 EuroHockey Championships - in their group in Amsterdam.
Keep reading for full fixtures for both men's and women's competitions.
Fixtures
(All times BST)
Friday, 18 August
Women
Netherlands 3-1 Spain
Saturday, 19 August
Women
Germany 4-1 Scotland
Belgium 6-0 Czech Republic
England 4-1 Ireland
Men
Belgium 4-1 Austria
Netherlands 7-1 Spain
Sunday, 20 August
Men
England v Poland (08:00)
Germany v Ireland (14:30)
Women
Spain v Czech Republic (10:00)
Ireland v Scotland (12:15)
Germany v England (16:45)
Belgium v Netherlands (19:00)
Monday, 21 August
Men
Spain v Austria (11:30)
Ireland v Poland (13:45)
England v Germany (16:00)
Belgium v Netherlands (19:00)
Tuesday, 22 August
Women
England v Scotland (11:30)
Ireland v Germany (13:45)
Spain v Belgium (16:00)
Netherlands v Czech Republic (19:00)
Wednesday, 23 August
Men
Germany v Poland (11:30)
Irleand v England (13:45)
Spain v Belgium (16:00)
Netherlands v Austria (19:00)
Thursday, 24 August
Women
Classification 5-8
A4 v B4 (11:30)
A3 v B3 (13:45)
Semi-finals:
B1 v A2 (16:00)
A1 v B2 (19:00)
Friday, 25 August
Men
Classification 5-8
A4 v B4 (11:30)
A3 v B3 (13:45)
Semi-finals:
B1 v A2 (16:00)
A1 v B2 (19:00)
Saturday, 26 August
Women
Classification 5-8
A3 v B4 (11:15)
B3 v A3 (13:30)
Bronze final:
TBC v TBC (16:00)
Final:
TBC v TBC (19:00)
Sunday, 27 August
Women
Classification 5-8
A3 v B4 (08:00)
B3 v A3 (10:00)
Bronze final:
TBC v TBC (12:30)
Final:
TBC v TBC (15:00)
Standings
| | | | | | | | |
| --- | --- | --- | --- | --- | --- | --- | --- |
| Men's Group A | P | W | D | L | F | A | Pts |
| Netherlands | 1 | 1 | 0 | 0 | 7 | 1 | 3 |
| Belgium | 1 | 1 | 0 | 0 | 4 | 1 | 3 |
| Austria | 1 | 0 | 0 | 1 | 1 | 4 | 0 |
| Spain | 1 | 0 | 0 | 1 | 1 | 7 | 0 |
| | | | | | | | |
| --- | --- | --- | --- | --- | --- | --- | --- |
| Men's Group B | P | W | D | L | F | A | Pts |
| England | | | | | | | |
| Germany | | | | | | | |
| Ireland | | | | | | | |
| Poland | | | | | | | |
| | | | | | | | |
| --- | --- | --- | --- | --- | --- | --- | --- |
| Women's Group A | P | W | D | L | F | A | Pts |
| Belgium | 1 | 1 | 0 | 0 | 6 | 0 | 3 |
| Netherlands | 1 | 1 | 0 | 0 | 3 | 1 | 3 |
| Spain | 1 | 0 | 0 | 1 | 1 | 3 | 0 |
| Czech Republic | 1 | 0 | 0 | 1 | 0 | 6 | 0 |
| | | | | | | | |
| --- | --- | --- | --- | --- | --- | --- | --- |
| Women's Group B | P | W | D | L | F | A | Pts |
| Germany | 1 | 1 | 0 | 0 | 4 | 1 | 3 |
| England | 1 | 1 | 0 | 0 | 4 | 1 | 3 |
| Scotland | 1 | 0 | 0 | 1 | 1 | 4 | 0 |
| Ireland | 1 | 0 | 0 | 1 | 1 | 4 | 0 |