Euro Guard: Why many Premier League managers come from the Continent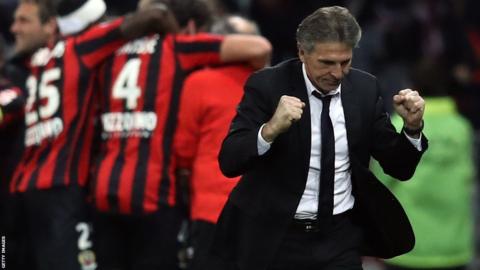 For Ian, Lennie, Doug and Dave in 1992-93, read Claude, Aitor, Mauricio and Antonio in 2016-17.
The monikers of those managing Southampton FC, Middlesbrough FC, Tottenham Hotspur and Chelsea FC respectively in the inaugural season of the Premier League, compared with those at the helm for the forthcoming campaign, show how the globalisation of the English top flight is not solely about star players - it is reflected in the dugout, too.
In that first Premier League season, 21 of the 22 managers were British. The exception? Wimbledon's Joe Kinnear - birthplace: Dublin, accent: Cockney.
This season, 13 of the 20 Premier League managers are from overseas. Italy (four), Spain (two), France (two), Germany, Holland, Argentina, Croatia, and Portugal are all represented. There are just five English managers, compared with 16 out of 22 in 1992.
Foreign managers, like players, have been part of the English game for a while now, with the likes of Arsène Wenger and José Mourinho enjoying success over the past - in Wenger's case - two decades. But a more recent trend is that of middle-ranking Premier League clubs looking abroad for a manager (or head coach, as the modern parlance would have it) rather than casting their nets in the traditional reservoir of the lower leagues.
Of 18 managerial changes since the end of the 2014-15 season, 15 have led to the appointment of foreign managers, including all six this summer. Where Southampton would once have turned to Nigel Adkins of Scunthorpe, they have gone for Frenchman Claude Puel. Where Watford once plucked Graham Taylor from Lincoln City, they now appoint an Italian, Walter Mazzarri.
Money talks
The latest Premier League TV deal, worth $6.7bn (£5.1bn), hasn't just given clubs power in the transfer market - it means they can entice managers with a hefty pay-packet too.
European football expert Andy Brassell admits healthy salaries are a big attraction for foreign coaches.
"If you look at someone like Claude Puel, he will have the biggest contract of his career at Southampton," he said."He will be on more than he was at Lyon, where he was in the Champions League."
Matt Scott, a financial columnist for Inside World Football, points out that when Wenger joined Arsenal in 1996, no English club had a turnover exceeding $39m.
By the time Dick Advocaat replaced Gus Poyet as Sunderland manager in 2014-15, the combined turnovers of the Premier League's so-called big six (Arsenal, Chelsea, Liverpool, Manchester City, Manchester United and Tottenham Hotspur) was around $2.65bn.
"Another big attraction of English football is the culture regarding managers," Scott explains. "In Italy, for instance, if a manager is sacked it is commonplace for him to be held to his job and paid his salary until the end of his contract, thus preventing him taking up another role. Here a severance package is agreed, and the manager moves on, free to find work elsewhere."
But it isn't all about the money. Overseas managers come to the Premier League because, regardless of whether it is the best the league in the world, the managerial challenge is certainly one of the stiffest.
"No other leagues in Europe are as physically exacting. Managing the level of intensity required to cope with that is a big test for any manager," Brassell said.
"Because the players are so well paid the manager needs to have a strong personality to get them to do what he wants."
The cult of the manager
Managers these days are big news. There is as much interest in what happens on the touchline as on the pitch.
Pep Guardiola arrives at Manchester City with a big reputation, having won 21 trophies in his time at Barcelona and Bayern Munich. Can he repeat that success in Manchester?
"Watching City over the past couple of seasons, I'm not sure what sort of team they were trying to be. Guardiola will give them an identity," Brassell said.
"Bayern had a Bayern brand of football, and that is what he will try to do at City. When you speak to people who watch Bayern regularly, they say the football was sensational."
Guardiola will be up against Mourinho, his old adversary in Spain, who has taken over at Manchester United. The "special one" looked more like the clueless one in his latter days at Chelsea, and Brassell is not convinced that he can revive his - and United's - fortunes.
"There has got to be a question mark over him. When you look at the history of football, not many managers have had sustained success for more than a decade," he said.
"Maybe the magic is running out? With all the other managers coming in, you could argue this is the worst possible time for him to take the United job."
New faces
Guardiola aside, four other foreign managers will be experiencing their first taste of the Premier League.
Antonio Conte arrives at Chelsea fresh from guiding Italy to the quarter-finals of Euro 2016. Before that, the 46-year-old led Juventus to three successive Serie A titles, recording a win ratio of 68% in charge of the Old Lady of Italian football.
Asked what Conte will bring to Stamford Bridge, Paolo Bandini, who writes about Italian football for The Guardian, said: "Discipline, a relentless work rate and a solid helping of tactical nous. "He's very much a 'my way or the highway' kind of character, so it would be interesting to see what would happen if any player didn't get on board. But so far in his career, he's been very good at getting his players to buy into his project."
Claude Puel was Southampton's surprise choice to succeed Ronald Koeman, who has moved to Everton. Brassell backs the former Lyon and Nice manager to succeed, describing him as "an innovative coach who plays good football and is not scared to bring in young players".
Aitor Karanka will make his Premier League bow with Middlesbrough after guiding them to promotion from the Championship, while Watford have replaced a Spaniard with an Italian, as former Inter Milan and Napoli boss Walter Mazzarri takes over from Quique Sanchez Flores. Bandini says Mazzarri isn't the most jovial of characters, adding: "His teams can be very cautious, and therefore at times a little dull, but during his best years at Napoli they were thrilling in their pace and effectiveness on the break."
Familiar faces
Claudio Ranieri will be back with Leicester City, after their fairytale title win last season, while Mauricio Pochettino will hope Spurs' fortunes mirror the first 34, rather than final four, matches of the previous campaign.
Can Wenger, the elder statesmen of foreign managers in England, end his 13 years without a title at Arsenal? Can Slaven Bilic, in a new stadium at West Ham, and Francesco Guidolin, at Swansea City, continue their good work? And what of Jürgen Klopp? With a full pre-season to implement his famed Gegenpressing style, will he take Liverpool to the next level?
"Klopp will be successful at Liverpool. His recent contract extension shows that the club has a lot of trust in him," says Lutz Pfannenstiel, a former German goalkeeper-turned-TV pundit.
"It is important to have a full pre-season because Klopp's style needs to be fully understood by the players."
Premier League managers 1992-93
Arsenal: George Graham (Scottish)
Aston Villa: Ron Atkinson (English)
Blackburn Rovers: Kenny Dalglish (Scottish)
Chelsea: Ian Porterfield, replaced by David Webb (both English)
Coventry City: Bobby Gould (English)
Crystal Palace: Steve Coppell (English)
Everton: Howard Kendall (English)
Ipswich Town: John Lyall (English)
Leeds United: Howard Wilkinson (English)
Liverpool: Graeme Souness (Scottish)
Manchester City: Peter Reid (English)
Manchester United: Alex Ferguson (Scottish)
Middlesbrough: Lennie Lawrence (English)
Norwich City: Mike Walker (Welsh)
Nottingham Forest: Brian Clough (English)
Oldham Athletic: Joe Royle (English)
Queens Park Rangers: Gerry Francis (English)
Sheffield United: Dave Bassett (English)
Sheffield Wednesday: Trevor Francis (English)
Southampton: Ian Branfoot (English)
Tottenham Hotspur: Doug Livermore (English)
Wimbledon: Joe Kinnear (Irish)
Premier League managers 2016-17
Arsenal: Arsène Wenger (French)
Bournemouth: Eddie Howe (English)
Burnley: Sean Dyche (English)
Chelsea: Antonio Conte (Italian)
Crystal Palace: Alan Pardew (English)
Everton: Ronald Koeman (Dutch)
Hull City: Steve Bruce (English)
Leicester City: Claudio Ranieri (Italian)
Liverpool: Jürgen Klopp (German)
Manchester City: Pep Guardiola (Spanish)
Manchester United: José Mourinho (Portuguese)
Middlesbrough: Aitor Karanka (Spanish)
Southampton: Claude Puel (French)
Stoke City: Mark Hughes (Welsh)
Sunderland: Sam Allardyce (English)
Swansea City: Francesco Guidolin (Italian)
Tottenham Hotspur: Mauricio Pochettino (Argentine)
Watford: Walter Mazzarri (Italian)
West Bromwich Albion: Tony Pulis (Welsh)
West Ham United: Slaven Bilic (Croatian)
Optus hold the broadcast rights to the English Premier League in Australia.