Splashing the cash is no guarantee of success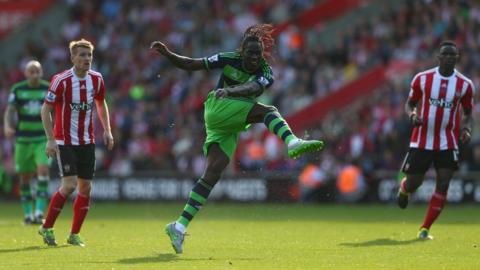 For proof of the theory that signing footballers is a highly inexact science, consider the case of the man still being hailed throughout Portugal for scoring the goal that made the country champions of Europe for the first time.
Ederzito Antonio Macedo Lopes - Eder to you, me and now the rest of the football world - was widely regarded as one of the worst signings by any Premier League club last year, given his non-performances for Swansea City, who had paid Portuguese club Braga $7m (£5m, 9m AUD) for him.
In 15 games, mostly as a substitute, he failed to score a single goal; his manager, Garry Monk, was sacked, and successor Francesco Guidolin immediately unloaded the hapless - some said hopeless - Eder on loan to Lille, who at the end of May signed him permanently.
A few weeks later he was a national hero, having slowly recovered his confidence, form and fitness.
Compare his efforts at the Welsh club with those of a man who cost only 10% more.
Dynamic midfielder N'Golo Kante, at $7m from French club Caen, was voted by his teammates at Leicester City the most important player in the champions' squad.
It is difficult to believe that anyone of the 170-odd players recruited by Premier League clubs a year ago provided better value, as Chelsea's decision, less than 12 months later, to pay almost six times as much for some of the magic that helped Leicester succeed them as title winners would seem to confirm.
Bargain transfers
Who else was a contender for bargain of the season? If the main criterion is value, two members of Leicester's regular and reliable back four merit a mention: Robert Huth, assumed to be taking, if anything, a step down from Stoke City in moving for $4m, and Christian Fuchs, an international left-back on a free transfer from Schalke.
One of the most significant trends last year was the way in which middle-ranking clubs were able to use increased income to attract the sort of talent at prices that would previously have been beyond them.
Thus Crystal Palace and Stoke City broke their club transfer records in signing players of the quality of Yohan Cabaye ($13m) and Xherdan Shaqiri ($16m) respectively, and West Ham went close to doing so in obtaining Dmitri Payet.
All three played a part not only in consolidating or improving their new teams but also the stature of their clubs, which in turn, helps attract further talent.
Southampton have been slightly different in that every year they are required to plug gaps left by the departure of leading players lured away by bigger clubs - and this year their manager, too.
Having lost Nathaniel Clyne, Morgan Schneiderlin and loanee Toby Alderweireld, they did well in securing right-back Cedric (another European Championship winner), Jordy Clasie and, above all, Celtic's Virgil van Dijk while still making a profit.
Tottenham, meanwhile, were delighted with Belgian centre-half Alderweireld and his contribution to the league's joint-best defence (35 goals conceded, down from 53 the previous season).
Neighbours Arsenal, pipping them to the runners-up position on the final day, let in only one goal more, and some of the credit for that must go to Petr Cech, justifying a $13m fee even if not consistently at his very best.
Striking deficiencies
A theme is emerging here: every player commended as a successful purchase is a midfielder, defender or goalkeeper. It is attackers, however, who generally command the highest fees.
A year ago, eight of the 10 most expensive signings were forwards, and how many of them can be said to have earned their corn?
The list, in descending order of cost, reads: Kevin de Bruyne, Raheem Sterling, Anthony Martial, Christian Benteke, Memphis Depay, Roberto Firmino, Pedro, Son Heung-min.
Read it and weep, anyone connected with Manchester City ($129m for their pair plus $42m for the most expensive defender, Nicolas Otamendi), Manchester United ($81m plus $40m for equally unimpressive midfielders Schneiderlin and Bastian Schweinsteiger) and Liverpool ($70m).
It was hardly surprising that the three managers who agreed those fees have all left the clubs in question, who finished fourth, fifth and eighth in the table.
No surprise, either, that Steve McClaren did not survive at Newcastle after being responsible for the second-highest net spend ($54m) last summer, including $16m to Marseille for FloranThauvin (three Premier League starts and soon sent back to France) and just as much on the aggressive Aleksandar Mitrovic, who showed greater promise but took too long to show it.
Pound for pound, euro for euro, Thauvin took some beating as the worst value of all, though Radamel Falcao (one goal in 11 games) was probably spared the (dis)honour only by virtue of having cost Chelsea no permanent fee.
Anyone's guess
All the indications are that the current transfer window will usher in more of the same, not least because there is even more money available under the new broadcasting agreements.
Also, City, United, Chelsea and Liverpool all have different managers in place from a year ago, convinced no doubt that they can buy more successfully than their predecessors.
The Manchester clubs, hurtling towards what promises to be a thrilling season of animation involving Pep Guardiola and Jose Mourinho, have already spent $119m between them, all on players without a minute's experience of English football; the type, in other words, who tend to need time to settle in.
Liverpool have shelled out best part of $79m on their own, including - like Chelsea (twice) and Arsenal - more than $40m on a single player. Spurs are also splashing the cash to improve and even Palace, buoyed by American investors as well as broadcast money, have laid out almost $33m.
The promoted clubs, noting that Watford reached mid-table after signing no fewer than 15 players last season, have only just got going, and Southampton, once again having lost key men, have $66m to spend. They will help push the total net spend close to, if not beyond, last year's estimated $595m.
And back in Lille, a striker called Eder will close his eyes, think of the Stade de Paris and have a quiet smile to himself.
Optus hold the broadcast rights to the English Premier League in Australia.